European Space Agency competition - CanSat 2019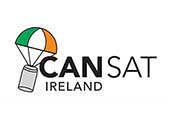 Published on: Tuesday, 12 February 2019
European Space Agency competition for second level students (transition year and upwards) is run by ESERO Ireland in association with Cork Electronic Industries Association and Institutes of Technology.

The European Space Agency (ESA) endorses and supports a range of CanSat activities across its Member States, all leading to a European final event – the European CanSat competition. The 2019 European CanSat Competition will take place in Medicina, Bologna, Italy, from 24 to 28 June 2019. The launch campaign will be hosted on ESA's behalf by Sierrafox Srl, in collaboration with local partners.

The CanSat project, aimed at second level school students, mainly addresses Technology, Physics, and programming curricular subjects. By offering the practical experience of working on a small-scale space project, CanSat makes use of these subjects in an interdisciplinary manner and promotes collaboration and teamwork.
2018 Munster Cansat Competition
All workshops take place in Room B276, CIT Bishopstown Campus, 4pm - 6pm.
Date
Activity
Friday 14th December 2018
Introductory CanSat session for teachers/mentors
Friday 18th January 2019
1st CanSat session for students
Friday 1st February 2019
2nd CanSat session for students
Friday 22nd February 2019
3rd CanSat session for students
Saturday 9th March 2019
Cork Regional CanSat competition
hosted by the Department of Electrical & Electronic Engineering, CIT.
What is CanSat
A CanSat is a simulation of a real satellite, built inside an empty soft drink can

CanSat Competition
Teams of school students compete to design, build and test a mini-satellite or CanSat. The competition gives students a feeling of excitement and technological achievement by launching their own satellite and gives them their first practical experience of a real space project.

Your Mission … should you choose to accept it
Fit all the major subsystems found in a satellite such as power, sensors and communications in a CanSat
Provide a parachute to ensure the can has a gentle landing
Carry out scientific experiments and transmit the data to an earth based computer
Entry is open to teams of 4-6 second level students (Transition Year, Fifth Year and Sixth Year)
What help will you get
CIT will support participating schools by providing access to state-of the-art labs, technical support and industry mentors for the competing teams. Each team and their teacher will be provided with a kit, an introduction course and on-going technical support from a dedicated technical mentor.
Enquiries to Dr Joe Connell by email joe.connell@cit.ie
CanSat Competiton Guidelines >>