TOUCH EXHIBITION opens 9 March 2019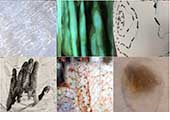 Published on: Tuesday, 26 February 2019

TOUCH EXHIBITION opens 9 March 2019 at the CIT CCAD Gallery, 46 Grand Parade, Cork, and runs until 30 March. The show will be opened by Fritz Horstman of the Albers Foundation, USA, at 6pm.

TOUCH is an exchange project shared by three European textile departments, initiated by Pamela Hardesty, Lecturer in Textiles at CIT Crawford of Art & Design, and developed alongside Erasmus colleagues Aet Ollisaar, Head of Textiles, Pallas University of Applied Sciences, Tartu, Estonia; and Eglė Ganda Bogdanienė, Pro-Rector for Studies at the Academy of Arts, Vilnius, Lithuania.


TOUCH has been organised in connection with CIT CCAD MAKE 2019 Symposium which takes placed on 9 March, honouring the centenary of the Bauhaus with a focus on materiality and our tactile response to material through making.

ANNI ALBERS lamented the waning of tactile awareness as long ago as the 1940s - she called people "lop-sided", increasingly without a sense of material. The TOUCH project has focussed on this sense of touch as intensive encounter with matter. Albers also asserted cloth as a sensitive medium capable of expressing rich meaning. The TOUCH project has also been dedicated to the creation of objects that touch us in emotional depth. Therefore, TOUCH has challenged the use of textiles in tactile encounter and in resonant meaning-filled form, guided by the spirit of Anni Albers.

TOUCH was launched in autumn 2018, and explored in parallel in each institution's textile department. Progress was shared online and through an exchange of material samples as tactile clues.


Three exhibitors from each TOUCH partner institution have been selected for the 2019 touring show:
Cork: Lucy Hyland, Diane Keating, and Tina Whelan
Tartu: Anneli Kurm, Kristin Mällo, and Helene Puusep
Vilnius: Deimantė Bielskutė, Taisija Kalinina, and Severija Žukauskytė.

TOUCH EXHIBITION will tour to each partner city in 2019.

Details & images: Pamela.Hardesty@cit.ie