CIT and CIPD collaborate to deliver informative CPD event at CIT Managing a Disciplinary & Investigation Process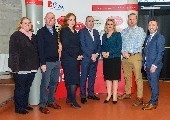 Published on: Friday, 15 March 2019
An audience of HR Professionals and students, at this sold out event, were treated to an exceptional learning experience in how to successfully manage a Disciplinary and Investigation process. This event was presented by CIPD Southern Region, in conjunction with Cork Institute of Technology at the Bishopstown Campus, Cork on Wednesday, 6th March, 2019.
Opening the event, Mari Manning, Chartered MCIPD, Chair, CIPD Southern Region committee welcomed the audience on behalf of CIPD, she stated that this was the fifth year that they had partnered with CIT to bring events to members, highlighting the tremendous support given by the college. She then gave an overview of the format for the evening, before introducing Don Crowley, Head of Organisation & Professional Development, School of Business at CIT. Don spoke of the college's association with CIPD; about what the college offers as a learning institution and how they are happy to work with industry on their professional development requirements. Don then introduced Speaker, Emer O'Callaghan, BCL who spoke briefly to introduce the topic, which was followed by a role play performance by actors, Kevin Herlihy and Damien Cahill, to bring the learning to life.

Photo L-R: Margaret McCarthy and Martin Counihan, CIPD Southern Region Executive, Emer O'Callaghan, Partner, JRAP O'Meara Solicitors, Kevin Herlihy, Operations Director, Herlihy Group Centra, Mari Manning, Chair, CIPD Southern Region, Damien Cahill, HR Manager, GE Healthcare, Don Crowley, Head of Department of Organisation & Professional Development, CIT.
The Actors demonstrated some good and some not so good practices in the course of their scenarios, which was planned.
As each scenario concluded, Emer O'Callaghan was on hand to point out the pitfalls with helpful advice and guidance on best practice. There were no shortage of questions from those in attendance, all of which were answered with knowledge and expertise, thereby creating an outstanding learning experience for the audience.
In the course of her presentation, Emer covered relevant case law and gave mention to the Lyons case, a high court ruling which gives the accused the right to legal representation and to cross examine witnesses.
This seemed more like a workshop than a regular CIPD event and feedback from the audience was phenomenal, with comments ranging from 'outstanding', 'brilliant', 'most informative presentation' 'great learning experience'.
Don Crowley was then called upon to close proceedings for CIT where he thanked all the participants and the organisers of the event. He then handed over to Mari Manning to close the event on behalf of CIPD. Mari reiterated her thanks to all involved in making this a hugely successful event. She then called on the CIPD committee members, Margaret and Martin to present gifts, courtesy of the Irish Examiner, to the participants in appreciation of their time and efforts. Mari also thanked the audience for their participation which added hugely to the experience.