Summer Art Courses at the Crawford > Apply now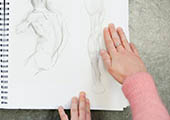 Published on: Thursday, 21 March 2019
Portfolio Preparation
This course begins Monday 24th June and finishes on Friday 28th June 2019. It takes place in the CIT Crawford College of Art & Design, Sharman Crawford Street, Cork - from 10am to 4pm.
It is designed to assist and advise those developing a portfolio of work for entry into all Art & Design related courses. It is suitable for both mature and Leaving Certificate students. Two specialist lecturers will take the students through a number of set projects including disciplines such as: drawing, painting, printmaking, photography, 3D construction and life drawing. The students will create a well-balanced and individual portfolio with their personal career path in mind.
All specialist materials are supplied. Course fee is €350. The course runs subject to minimum enrolment. Places on this course are offered on a first come first served basis and will be secured on receipt of fee.

For more info contact:
E: ccad.enquires@cit.ie
T: 021 433 5220


Portrait & Life Drawing
25th to 27th June 2019 &
16th to 18th July 2019

Workshops 10.00am – 4.00pm (with 1 hour for lunch). Fee: €180.00 (including workshop fee & basic materials).
A skill based drawing course for all levels using the live model as a subject. The course will cover portraiture, gesture drawing and the nude in a variety of mediums.
Students will be encouraged to develop their drawing skills in charcoal, pencil and pastel with instruction on the use of medium, measuring, composition, tonal work and colour application. Students will receive one to one tuition specific to their needs in a friendly group environment.

Tutor: Eileen Healy
Eileen Healy is a figurative artist whose paintings are mostly nudes and portraits. Since completing her studies in 1988 she has had several one person shows in Cork and Dublin and has been involved in exhibitions in Germany, Latvia and France. Her studio is based at the Backwater Artists Group. She teaches Adult Ed classes in drawing and painting at CCAD.
Enquiries to Eileen Healy by email spudhealy45@gmail.com


For more info contact:
E: ccad.enquires@cit.ie
T: 021 433 5220
5 DAY LIFE DRAWING MARATHONS
1st to 5th July 2019 &
8th to 12th July 2019
10.00am to 4.00pm (one hour break for lunch). Fee: €180.00. Individual days can be booked for €38 per day. Maximum number in class is 12.
A life drawing marathon is an opportunity for a continuous period of study from a variety of models across 5 days. Poses suitable for fast gesture work will be included along with longer poses for more sustained drawings. The Crawford College of Art and Design provides ideal life room facilities, with spotlighting and full blackout. Easels, drawing boards and newsprint will be provided – participants should bring their own paper and drawing materials (water based/non-toxic only).
PLEASE NOTE: These sessions are designed for those with previous life drawing experience only. The sessions are untutored but will be supervised and facilitated by CCAD tutors – Megan Eustace and Helen Farrell- who will be available to give advice if requested.


For more info contact:
E: ccad.enquires@cit.ie
T: 021 433 5220