Sediment Uses as Resources in Circular and Territorial Economies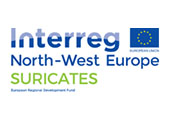 Published on: Friday, 22 March 2019
The SURICATES EU Interreg Project - for detailed information
please click here.

The SURICATES Project is funded through the EU North West Europe Interreg Programme for the period 2017 to 2021. It is a large scale project involving twelve partners, both academic and industry, across The Netherlands, France, Scotland, and Ireland. The aim of the project is to increase the use of dredged sediment to counter coastal erosion and to protect against flooding. Both coastal erosion and coastal and river flooding are major challenges for Ireland and particularly in the context of climate change. Cork Institute of Technology is involved in different aspects of the project and will lead one of the main Work Packages on economic, social and environmental modelling.

Dredging generates large volumes of sediment, about 200 million m3 each year within the EU with the vast bulk of this disposed rather than used again. The EU needs to develop and implement environmentally and socio-economically viable strategies and solutions to ensure greater use of dredged sediment with less need for primary sediment resources such as the quarrying of sand and gravel. One of the aims of the project is to make dredged sediment use projects attractive at the local and regional scale.

The SURICATES Project will involve real life pilot sediment use projects in the Port of Rotterdam and also in canals in Scotland; these pilot projects aim to show the potential for sediment use in real working environments and is an exciting feature of the project. These pilot projects will be supported by different ways of predicting the benefits of using sediment as an environmentally-friendly approach for flood control and coastal erosion projects.

SURICATES Project Contact Points
Brano Batel
Researcher
Email: branislav.batel@cit.ie
Dr Joe Harrington
Project Manager
Email: joe.harrington@cit.ie