Cork Art Therapy Summer School will take place from Saturday 22nd June to Wednesday 26th June 2019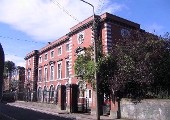 Published on: Thursday, 28 March 2019
Now in its 29th year, Cork Art Therapy Summer School will take place from Saturday 22nd June to Wednesday 26th June 2019. This unique event invites participants to invest in their creativity, explore their personal process and enhance their professional perspective. The Summer School will be hosted in the historic ambiance of the Crawford College of Art and Design in the heart of Cork City.
As life grows ever more demanding and sensory bombardment increases, it becomes more and more crucial to put aside time to attend to our inner landscape. The Art Therapy Summer School facilitates a movement beneath and beyond our thinking mind, to the realm of deep creativity and knowing, innate within us all. Seasoned Art Therapists will guide your adventure within the experiential workshops - these form the rich and colourful body of the Summer School, while a fascinating lecture series generates a conceptual framework for this potentially life changing experience. The Cork Art Therapy Summer School is honoured this year to welcome world renowned Art Therapist, Dr Susan Hogan to headline a line-up of expert speakers.
Many of the best Art Therapists began their careers inspired and invigorated by the Summer School, and many continue to dip back into the event to renew and replenish their professional and personal capacity. Others come to discover the therapeutic value of art making and some to re-ignite their imagination.
Everyone who comes will relish the welcome they receive on all levels of their experience, from the kitchen staff and caretakers to the Art Therapy team. Deep friendships are formed and perhaps most importantly, breakthroughs are made in one's relationship with self."
To book please follow the link
https://events.cit.ie/index.cfm?page=events&eventId=412