New BA Honours Degree Course in Photography with New Media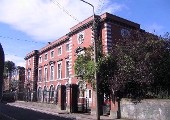 Published on: Thursday, 11 April 2019
CIT Crawford College of Art and Design is launching a new four-year, full-time BA Honours course in Photography with New Media, which is now recruiting students for September 2019. This programme is sharply focused on preparing graduates for professional practice in the world of image production – developing the creative and technical skills needed by the rapidly growing media industries. The course will cover all aspects of digital photography and video, including image processing, video editing and post-production.
There is currently increasing demand for high quality still and moving images to feed into a rapidly expanding online market for media content. This programme will prepare students for careers as professional photographers and videographers with the required specialist and transferable skills. All students will undertake a full semester of work placement in their third year of study and graduates will be able to demonstrate a wide range of skills as well as a distinctive, individual, creative approach.
The course has been designed in consultation with established professionals in the field and following two years of consultation and development it has now been validated and is open for applications through the CAO. Applications both from school-leavers and from mature students who may be considering a change of career are welcome. The programme aligns closely with the professional practice and technological skills ethos of the Department of Media Communications at the same time as embracing the creative and theoretical challenges posed by the Department of Fine Art and Applied Art, where some of the modules will be delivered. Students will have the opportunity to mix with their peers on the BA Honours courses in Fine Art, Contemporary Applied Art, Visual Communications and Creative Digital Media. Technical skills will be introduced in the first year, developed and applied to a range of professional contexts during the second and third years and refined and polished in the production of a highly competent and creatively distinctive portfolio of work during the fourth and final year.
Career Opportunities
The photography, video and media industry covers a diverse range of professional practice.
There is hardly a social activity that does not require the services of a photographer or videographer in some way, and image industry professionals all acknowledge the shift that requires them to be proficient in both still and moving image capture, as well as in all of the associated post-production work. Graduates can progress to further studies to gain Masters and also PhD qualifications.
Potential Careers include:
Promotion and Advertising Photography
Sports Photography
Video Production
Fashion Photography and Video
Portrait Photography
Events Photography and Video
Architectural Photography
Clinical and Forensic Photography
Motion Graphics Production
Photography and Video Post-Production
Catherine Fehily, Head of the CIT Crawford College of Art and Design, said "We're looking forward to welcoming our first cohort of specialist Photography with New Media students to the college in September and can't wait to see them graduate and take their places in the vibrant career context that is the contemporary creative media industry, in four years from now."
For further information, visit the College's website: https://crawford.cit.ie/courses or email ccad.enquiries@cit.ie