Successful PhD defence by Biology student Marta Sanz - Gaitero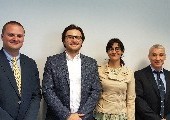 Published on: Thursday, 09 May 2019
Biology student Marta Sanz Gaitero was awarded a CIT Risam PhD fellowship in 2015 and conducted her doctoral project under the supervision of Professor Aidan Coffey from the Department of Biological Sciences.
Her PhD project, entitled Crystallographic structure determination of bacteriophage-encoded enzymes that specifically target pathogenic bacteria, was performed in collaboration with Dr Mark van Raaij at the National Centre for Biotechnology in Madrid.
Marta presented her work at several conferences including the inaugural Lysin Meeting held at the Rockefeller University, New York in 2016.
The photograph taken at her PhD viva voce examination on May 7th 2019 shows internal thesis examiner Professor Roy Sleator, external thesis examiner Dr Matthew Dunne from ETH Zurich (the Swiss Federal Institute of Technology), Marta Sanz-Gaitero and Professor Aidan Coffey.