CCAD Degree Show 2019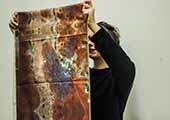 Published on: Wednesday, 29 May 2019
The CIT CCAD annual Degree Show is one of the highlights of the arts calendar...
BOLD - Visual Communications & Creative Digital Media

Location: James Barry Exhibition Centre, Bishopstown Campus, CIT

Opening Night: 6.00pm Thursday 30th May 2019
Running until Thursday 6th June 2019 (open daily from 10am - 4pm. Closed Monday 3rd June.
DISMANTLE - Fine Art & Contemporary Applied Art


Location: Sharman Crawford Street Campus

Opening night: 6.00pm Friday 7th June 2019
Running until Friday 14th June 2019 (open daily 1am - 6pm. Late opening Thursday 13th June, 11am - 8pm)