European First Year Experience Conference - If a Good Start is half the work... what is the other half?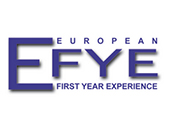 Published on: Tuesday, 18 June 2019
CIT will host, for the first time in Ireland, the annual European First Year Experience Conference (EFYE) on 17th to 19th June, bringing together delegates from across the world interested in improving the experience of first year higher education students. EFYE is an internationally renowned annual conference in the enhancing first year student experience space, that attracts delegates from all over the world. CIT was selected to host EFYE 2019 based on its stellar reputation for student engagement. This year the conference will welcome over 350 delegates to Cork from 20 different countries all around the world.
"CIT prides itself on its well earned reputation for student focused higher education and we are very conscious of the need to continuously respond to the changing needs of our learners in a complex world. Bringing the European First Year Experience conference to CIT enabled us to create an event that has attracted a wide variety of academic, professional and management staff and students to Cork for a prestigious education event enabling development, dialogue, networking and possible European and international partnerships that will deliver for our students and staff in CIT into the future" says Dr Barry O'Connor, President, Cork Institute of Technology.
EFYE 2019 will welcome over 140 delegate-led sessions and three important and inspiring keynote speakers; iconic world leaders in student engagement Dr John N. Gardner and Dr Betsy Barefoot of the John N Gardner Institute, USA, transitions pedagogy expert Professor Sally Kift, President of the Australian Learning and Teaching Fellows, and change-maker, Dr Gemma Irvine, Head of Policy and Strategic Planning in the Higher Education Authority (HEA) in Ireland.
On Monday evening, 17th June, Cork Council and our new Mayor Dr John Sheehan will formally welcome EFYE delegates to Cork City in a civic reception in City Hall at 6.30pm, where a number of our international guests along with some CIT students will sign the formal visitors book. Delegates at EFYE 2019 are from over 70 Higher Education Institutions across the world further emphasising Cork's international reputation as a City of Learning.
According to Dr Áine Ní Shé, Registrar and VP for Academic Affairs at CIT "We are delighted to be hosting EFYE2019 at CIT this year. The conference themes reflect our vision for development of our student experience. We work hard to maximise each student's potential and student success is a many splendored thing. Our conference will explore what student success means, how we can better support our students in their transition into and through CIT. We will also look at how purposeful teaching can lead to independent learning and how national policy aligns and supports our mission 'Risam Uile'- Let us all achieve."
Also, in a first for EFYE conferences and for Ireland, CIT has partnered with the National Forum for the Enhancement of Teaching and Learning to facilitate a national think-tank on 'Student Progression and Success in Higher Education' as part of EFYE 2019. This session will look at how Higher Education Institutions in Ireland can best work to enhance student progression and success in an ever-changing world. The think tank will benefit from the inputs of conference keynote speakers, delegates, national sector representatives and Dr Diane Nutt, Chair, EFYE Network. Dr Terry Maguire of the Irish National Forum for the Enhancement of Teaching and Learning with Marese Bermingham, Head, Teaching, Learning and Student Engagement at CIT will lead the deliberations. The EFYE international committee are keen to replicate national think-tanks in future years.
"We are very honoured to have been selected to host EFYE2019 based on our reputation for student centred teaching and learning and our continuing focus on enhancing student progression and success while at the same time working collaborativly with all of our staff and students in academic departments and learning development to continue to innovate and improve our student learning experience. We are very lucky too to enjoy good working relationships with many of the delegates who are attending our conference, both national and international, giving us significant opportunity to see how other institutions work best and to share our work with them. The conference promises to be stimulating, thought provoking and fun as we work out together how we can best move forward with meaningful action that speaks directly to where our students are at." says Marèse Bermingham, Head, AnSEO – The Student Engagement Office and Head, Teaching and Learning Unit, CIT.
CIT evidences its commitment to improving student engagement, progression, and success by the proactive establishment and ongoing resourcing of AnSEO – The Student Engagement Office. As leaders in the student engagement and progression space in Ireland, AnSEO – The Student Engagement Office at CIT, attracted the interests of the European First Year Experience network. AnSEO won the Student Engagement and Communications Award at the Irish Education Awards in both 2017 and 2018.
- - - - - - - - - - - - - - - - - - - - - - - - - - - - - - - - - - - - - - - - - - - - - - - - - - - - - - - - - - - - - - - - - - - - - - - - - - -
EFYE conference was first run in 20016 and is planned by the EFYE Network, a group of academics and support staff from across Europe, and a hosting university/institution. EFYE is interested in improving the experience of students as they enter and progress through higher education. For more information about EFYE 2019 please visit www.efye2019.ie or contact Lisa Moran, Communications and Events Officer, AnSEO – The Student Engagement Office, CIT at lisa.moran@cit.ie