CIT's Biological Sciences Department become members of the Cell EXPLORERS programme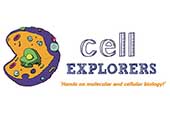 Published on: Monday, 17 June 2019
Cell EXPLORERS programme is an SFI funded STEM outreach initiative, coordinated by NUI Galway, that is focused on promoting science activities in national schools throughout Ireland. As a member of the Cell EXPLORERS NETwork, the CIT Department of Biological Sciences is helping to address the national shortfall in science education by going out into the local communities and schools and engaging with children and the public.

The Cell EXPLORERS CIT team recently brought 'The Fantastic DNA Roadshow' to St Catherine's National School and Belgooly National School and will continue their school visits and engagements in September 2019.

To learn more about this initiative, please contact CIT coordinators Dr Fiona O'Halloran (fiona.ohalloran@cit.ie) and Dr Máire Begley (maire.begley@cit.ie).