CIT 5k Promotional Launch at the CIT Athletics Stadium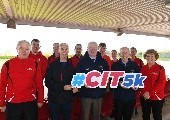 Published on: Thursday, 16 January 2020
The inaugural CIT 5k Race will take place on Sun 1st March at 11am with registration, changing facilities and post-race refreshments all provided in and around the CIT Sports-Hall and Athletics Stadium &Track.

Pictured Left to right: Brendan Deane, Craig Harrington, Michael Brennan, Lee Doherty, George Bulman (Sponsor, Rubicon), Dr Barry O Connor (President, CIT), Liam Lewis (Sponsor, CAPPA), Fintan O Leary, Andrea Bickerdike, Steven Darby, Maretta Brennan.
This race will be organized in association with the Cork Business Houses Athletics Association (BHAA) which organizes a calendar of races of all varieties and distances throughout the year. The BHAA has grown from strength to strength from its humble beginnings back in 1982. Indeed, the CIT Staff Athletics Team membership has also grown exponentially from an initial cohort of 5 members in 2012 to an incredible total of 59 members in 2019, which they hope to eclipse or indeed overhaul in the 2020 season!
It is anticipated that the CIT 5k will attract around 400 runners representing nearly every business and workplace in the County Cork region. It will also be a health promotion opportunity which we hope will encourage students, staff and those in the wider community around CIT to participate in this enjoyable social event in their local area!
According to Brendan Deane, Chairperson of the CIT 5k Race Committee, "The CIT Staff Athletics Team are delighted to host this event in conjunction with the Cork Business Houses Athletics Association. It is a fantastic opportunity to showcase our superb sporting facilities here on the Bishopstown campus, whilst also using the event to encourage people to select more active lifestyle choices. We are extremely grateful to the college for the use of these facilities, our race sponsors, and the considerable group of volunteers who will look after all the participants on the day!"