Right Here Right Now Festival – Traditional & Folk Music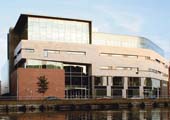 Published on: Monday, 24 February 2020
A proud night for CIT Cork School of Music at the Cork Opera House as the stage was filled with alumni, staff members and students in a glorious celebration of contemporary traditional and folk music curated by lecturer Cormac McCarthy. Strung are now one of our best-known international ambassadorial groups, performing at festivals worldwide; lecturers Johnny McCarthy and Eoin Ó Riabhaigh are doyens of their chosen métiers; the Cork Opera House Concert Orchestra is made up of twenty-one CSM staff and graduates out of a total of twenty-five; conductor John O'Brien, orchestra manager Deirdre Collins and arranger Áine Delaney are alumni – as is presenter Elmarie Mawe! Backstage our Theatre Studies graduates and staff provided stage management and technical crew to keep it all going.
Beyond the overwhelming numbers of contributors from CITCSM is the cutting-edge creativity and artistic vision of these wonderful artists, fostered and cultivated in the cultural melting pot that is our School. The highest level conservatoire training available permits an inspired creative and intellectual juxtaposition of music learnt at the hearth and experienced in the widest international arena.
Above all, this was a quiet celebration of the talent and craft of Cormac McCarthy, composer, curator and brightest star in the constellation that was this concert. He stood equal with Donal Lunny, Mairtin O'Connor, and Nell Ní Chróinín – at the front rank of Ireland's folk music artists. What a fantastic torch-bearer for CITCSM and an inspiration for its students.
Photos of the event are available from:
https://www.goldenplec.com/galleries/right-here-right-now-2020-sunday/