Continuing Education Handbook is available now, online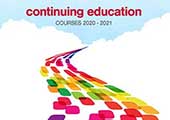 Published on: Saturday, 23 May 2020
A World of Lifelong Learning Opportunities at CIT > Continuing Education Programmes
The CIT Continuing Education Handbook is available now, online. The Handbook will be updated continuously as more courses become available, so watch this space!
Information on evening, weekend
part-time courses is available here.
Whatever your plans and talents CIT has a course to study for you. We offer the full range of Higher Education qualifications, including Bachelor Degrees and Honours Bachelor Degrees, as well as Masters and PhD degrees. There is a flexible "ladder" system in place which in many cases allows you to progress from one award to the next.
For those returning to education from employment or for those with other commitments, CIT has a varied part-time and evening programme, one of the largest at third level in the country.
Dr Barry O'Connor, President, CIT says "This year's Continuing Education Handbook is being launched at a time of major upheaval in the community, the world of work and certainly in the world of education. This upheaval and disruption to the traditional way of life is set to last for at least a year and the so-called 'new normal' will be different to what we have accepted as normal up to now. The need for and the value of continuing education and training and the pursuit of Lifelong Learning has never been more relevant. Across CIT we have embraced remote teaching and learning platforms to ensure continuity of education for our students.
As we face into the 2020/2021 academic year, we can assure you that we will continue to make the most relevant, high quality and profession-focused courses available to our part-time and continuing education learners. Irrespective as to how the COVID-19 pandemic wanes or develops over the coming year, we will deliver our courses in a manner in line with Public Health guidelines but always putting the CIT Learner at the centre of our delivery. As always, the range of courses being made available will be interesting, enriching and relevant. We hope you can join us on what will be an interesting learning journey over 2020/2021."

The CIT Crawford College of Art & Design evening courses in Ceramics, Drawing and Painting, Textiles, Darkroom Photography, Life Drawing, and Digital Photography will commence in September. Online Application for the CIT CCAD evening courses will open 10th August 2020. All courses will be delivered in compliance with ongoing public health advice.
All part-time programmes at CIT will run subject to sufficient student numbers. Where a programme cannot proceed, applicants will be contacted and advised on alternative study options. Early application is advisable as places are limited.