CIT Pays Tribute to its Sport Heroes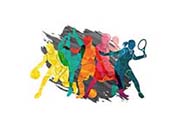 Published on: Friday, 22 May 2020
Over the course of this week, CIT Sports Office paid tribute to all its sporting heroes for the academic year 2019/20. 38 CIT clubs nominated their standout players, administrators, teams and sporting moments resulting in a record 71 nominations received. It has been a fantastic week, engaging with staff and students alike and congratulations to all; recipients of the awards and fellow nominees. The Sports Awards were announced via its Social Media Facebook, Twitter and Instagram.
The CIT Sports Office sincerely thanks all the academic and administrative staff at the Institute for its continuous support of the student sporting clubs and their members. In particular, a thank you was made to the members of staff who volunteer their time in the development of the sports in CIT.
https://www.facebook.com/CITsports/



Katie Walsh (Athletics) studying Chemical & Biopharmaceutical Engineering for her outstanding performances in the IUAA Indoor T&F Championships taking gold for the second year running in the pentathlon.
Leon O'Regan (Tennis) studying Digital Media was acknowledged for his resilience, dedication and phenomenal work as club chairperson. His contribution shone a light on the true meaning of commitment and selflessness of a person who loves his sport.

Mary Taylor (Boxing) 2nd year Social Care student was recognised for securing Gold at the boxing Intervarsities in Dublin. Also chosen on the 2020 Irish Universities Box Cup Team.
Daniel Dineen (Gaelic Football) Quantity Surveying student. This dedicated CIT Gaelic Footballer received his award for an outstanding 5:14 scoring contribution in their successful Trench Cup campaign
Ross O'Connor (Power Lifting) 3rd year in Automotive Technology & Management. During his time in CIT he has amassed 2 gold & 1 silver World Championship medals, a World record for Deadlift, and a plethora of National Irish records. An inspirational club chairman he has also qualified as the youngest ever National and International Referee in this sport.
James O'Shea (AFL) 2nd year Construction Management student. James was unearthed as a marquee forward when CIT won the 2019 Irish Universities. His effective kicking technique has seen him selected for Ireland in the upcoming World Cup as well as the Irish Universities squad.
Zach Harrington (Orienteering & Athletics) Structural Engineering student. Zach was recognised for his commitment to both Athletics and Orienteering. This outstanding athlete has delivered some fantastic results at home and abroad during his time in CIT.
Anthony Casey (GAA Club) MSc by Research student. Anthony has made a huge contribution to CIT sport. A member of the Cork Senior Football panel he still finds time to chair the biggest and oldest sporting club in CIT with 400 members. Passionate about player welfare, he has been a great example of what a busy person can do.
Clodagh Walsh (Athletics) in her 2nd year in Marketing received her award for consistently impressive performances for the CIT Lions, winning a remarkable 4 national titles - including a massive new Pole Vault Personal Best of 3.75m.
Sophie Hudner & Dean Meehan (Soccer) received a joint award for their roles as administrators. Sophie is a Marketing student while Dean is studying Nutrition & Health Science have been fantastic role models as student club officers. Their combined attributes have ensured that the soccer club is a place where enjoyment and inclusiveness are as much as part of the set up as quality training and competitiveness.
Fresher of the Year Award goes to Louise Scannell (Basketball) studying Business Administration. Louise was recognised for her performances in helping CIT win the All Ireland Freshers including being top scorer and MVP. Louise is a standout Super League player for Glanmire and has European Silver and Bronze medals with Ireland.
Supreme Achievement Award goes to David Kenny (Athletics) The Rob Heffernan trained athlete currently studying Mechanical Engineering received this award for his outstanding recent performances including smashing the long-standing national colleges' 2km record, winning national racewalking titles over 2km, 5km & 20km and in the process qualifying for the Tokyo Olympics
International Achievement Awards
David Walsh & Adam Walsh (Handball) for their success in retaining the USA International Collegiate Men's Senior Open Handball Doubles in Texas earlier this year. The largest handball tournament in 3rd level, it is a rare two in a row in this event. David is doing Business Information Systems while Adam who hails from Wexford is in Construction Management.

William O'Donohue & Ryan Broderick (Power Lifting) Nutrition and Health Science students.

William placed first in the 67.5kg category at the National "Full Powers" Championship in February 2019, securing an invite to the World Championships in Canada in October. There he competed in the 69kg category and lifted a 95kg bench press, a 120kg squat and 200kg deadlift securing bronze.
Ryan qualified for the World Championships and won an impressive silver in the sub 105kg Junior category, with a colossal squat of 200kg, a 119kg bench press and a 190kg deadlift.
Club of the Year
CIT Athletics Club
Also known as the CIT Lions, they received the prestigious award for their performances this year at the Irish UAA Indoor T&F Championships where the club took home a total of 4 medals. 2 gold, 1 silver & 1 bronze along with a number of very respectable placed finishes. Athletics officer Craig Harrington and Club guru Ian O'Sullivan can be very pleased with this award.
Risam Uile Awards
Men's Senior Gaelic Football Team 2020
CIT's Senior Footballers under the management Conor Kelleher and Coach Pat Spratt won their first Trench Cup since 1979 and thus regain Sigerson Status all in less than 6 months.
CIT Boxing Club
Under the watchful eye of coach Ken O'Connor, the endless hours put in at training paid rich dividends at the 2020 Boxing Intervarsities in March with the club returning with 3 Gold and 2 Silver medals plus a number of very satisfying performances. Not just about the fighting though it also offers its members a sense of family in a welcoming and supportive environment.