EM3 - A Global Leader on Climate Action for Industry built on CIT Foundations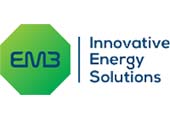 Published on: Thursday, 20 August 2020
Guest Author: Paul Murphy, EM3 Energy Management & Consultancy Leader and CIT Alumnus
To learn more, partner or work with EM3 check out www.em3.ie
EM3 is Ireland's leading Industrial Energy Services business where CIT alumni play a key role in its development. The rapid expansion of the business is due to the availability of a continuous supply of quality graduates from the Institute.
The company was formed in 2014 to help large industrial manufacturing entities based in Ireland to increase their efficiency and reduce their energy costs and carbon emissions. The founders of EM3 are John Hensey and CIT alumnus Dónall O'Brien, and its headquarters is in Charleville, Co. Cork. Since 2014, the business has expanded rapidly from a team of seven in 2014 to approaching 50 engineers in 2020. The business is expanding globally with offices opening in the USA and UK this year, Singapore in 2021, and expects to grow to over 150 staff over the next three years.
In 2019, EM3 delivered energy efficiency services in 24 different countries across four continents from its base in north Cork and helped reduce the carbon intensity of a variety of products from whiskey to whey, and from diabetes medicines to infant formula. The company offers all services in the areas of Energy and Climate Action for Industry and provides full turn-key design and project delivery, partnering with some of the world's largest companies.
CIT alumni play a key role in the company's leadership team and its development. The opportunities for engineers in a growing business like EM3 are endless.
EM3 manage the energy performance of industrial clients around the world with an energy spend of over >€600million. The value that the increased performance brings to the companies drives investment in more energy efficient facilities.
Over 40% of EM3's current team are from CIT – primarily from the Engineering courses – Sustainable Energy, Mechanical Engineering, Electrical Engineering, and Chemical and Process Engineering, with some of the team from the MSc in Data Science and Analytics. The key success factor to enable rapid expansion of the business is the availability of a continuous supply of quality graduates. The work placement programmes offered at CIT also provides EM3 an opportunity to develop their talent pool.
EM3's commitment to practical, cost effective, innovative solutions to climate change, to a science-based approach using Data Analytics, and to a partnership business model built on integrity is why many of the world's largest corporations choose to work with EM3. Clients include, Abbott, Abbvie, BMS, Glanbia, Kerry Group, Nestle and Pernod-Ricard to name a few.
From the 43 energy audits carried out worldwide in 2019, the differences across the world in terms of technology adoption and energy efficiency culture is evident, even within the estates of blue-chip companies. The opportunity for energy and carbon reduction across client estates remains the common theme. On average there was an opportunity for carbon reduction of approximately 40% with a payback period of less than four years. If the worlds manufacturing giants achieved best-in class energy performance this would have a meaningful impact on Climate Change, and EM3 and its talented workforce are leaders in this area.
EM3 has recently launched its latest business stream – Climate Action for Industry which aims to simplify the process of developing an understanding of a business' or a products carbon footprint and develop practical strategies to achieve targeted reductions using an energy efficiency first approach.