Mask Wearing is Mandatory in all Campus Buildings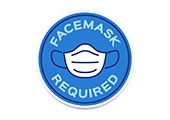 Published on: Wednesday, 16 September 2020
We ask that every member of the CIT community and visitors to our campuses take personal responsibility for their own health and that of our entire community.
The wearing of face masks is mandatory on campus at all times whilst indoors, unless the individual is the sole occupant of the room or area.
Transmission of the virus is a very simple process, it simply needs to pass from one respiratory system to another.
A face visor is not a substitute for a face mask. They are not designed as respiratory protective equipment.
An individual with a recognised medical condition or disability which precludes them from wearing a mask is not less likely to contract or spread the virus.
Dr Niall Smith, Head of Research at CIT explains the science behind the decision taken by the Covid-19 CIT Infection Control Team Subgroup to make mask wearing mandatory on campus.
This video has also been included in the CIT Covid-19 Induction Training online courses for staff and students.
Please continue to email covid19@cit.ie for any queries or information requests.
We also remind you - please do not present on campus if you are feeling unwell or if you have been in contact with a suspected Covid-19 close contact.