CIT Rolls Out Open Fortnight for 2021 CAO Applicants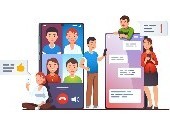 Published on: Wednesday, 11 November 2020
Selecting the course that best matches their interests can be a daunting experience for students. In order to provide guidance to everyone intending to apply for admission through the CAO process in 2021, Cork Institute of Technology (CIT) has created the Open Fortnight initiative to help ensure that students, as well as their supporters, teachers and guidance counsellors, have the opportunity to explore options in a friendly environment. This programme of live, online events, will provide students and their supporters with the opportunity to pose questions to staff members while also hearing from current students and recent graduates who will be on hand to talk about their personal experiences and offer advice about student life.
The Open Fortnight will run from Monday 16th November 2020 to Thursday 26th November 2020. Further information and the schedule of events is available at www.cit.ie/cao
CIT offers an extensive range of CAO courses. It is remarkably successful in producing award winners at national and European levels across its major disciplinary areas. In addition, CIT wins multimillion-euro research funding on an annual basis. Its connections with industry are exceptionally strong and heavily influence CIT course design and delivery. Work placement features strongly and graduate employment rates are strong. During their studies, CIT students get the opportunity to gain skills for employment or to start their own businesses. The combination of all of these factors provides CIT students with major advantages. The CIT Open Fortnight has been designed to provide participants with access to CIT's accumulated experience and knowledge across all of these areas.
On 1st January 2021, CIT will join with Institute of Technology Tralee to establish Munster Technological University (MTU). As a consequence, incoming students will enjoy many additional benefits, such as the following:
The range and quality of services and supports available to students will be enhanced
Students will have a greater range of options available to them in relation to course choice, progression opportunities, research and industry placement
Graduates will be able to avail of a greater selection of options nationally, and internationally, for further study and participation in research
Graduates will experience enhanced employability both in Ireland, and internationally, as MTU graduates
In addition to hearing about all of the above-referenced areas, students will be provided with the option to book specific timeslots to discuss their queries with CIT staff members while also being given the option to submit additional queries by email to cao@cit.ie.
According to CIT's Vice President for External Affairs, Michael Loftus, "CIT is open for business. While a number of restrictions are in place due to COVID-19, we have moved rapidly to new ways of working online with our students, staff, industry stakeholders and the communities we serve. We are now providing opportunities for secondary school students and their supporters to connect with us during our Open Fortnight to check course options and have their queries answered."
CIT's President, Dr Barry O'Connor, says "In CIT, the student is at the centre of all of our work. During Open Fortnight, the CIT community of students, graduates, and staff will be available to provide first-hand insights into our courses, our care for students and our engagement with communities, society and industry. CIT is adding a range of fantastic new facilities for learning, sports and wellbeing, and looks forward to welcoming new entrants in 2021, after the establishment of MTU. While today's world faces many challenges, CIT/MTU is embarking on an ambitious journey of expansion which will build upon its fantastic track record in learning and teaching, research and innovation, and engagement. We welcome all students who would like to participate in this great journey with us."
Further information and schedule of events is available at www.cit.ie/cao