First Cohort of MBA Graduates at CIT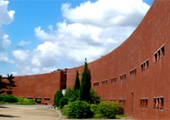 Published on: Thursday, 05 November 2020
Although it was very different to previous years and, undoubtedly different to what students expected when they commenced their studies, graduates of CIT's new MBA (Strategy) were conferred with their awards in a virtual ceremony.
The momentous occasion saw graduates conferred from the comfort of their own homes, surrounded by close family and loved ones: not the usual sense of occasion with classmates and lecturers. At the ceremony, Head of Department, Don Crowley, commended the graduates on their resilience, perseverance, and commitment, saying that the lecturing team were "immensely proud of the inaugural graduates of the programme."

CIT's MBA (Strategy) commenced two years ago. Amongst the first graduates of the programme are Andrea Graham, Softwear Engineering Manager with Workvivo, Elton Chambers, Director of Packaging Operations at GE Healthcare and Ileana Wright, Analyst at Red Hat, whose husband Ian Ross, also graduated with a BA (Hons) in International Business with Aviation Studies. "A tremendous achievement for all graduates, who completed the part time programme at a time of immense change and uncertainty, personally and professionally" concluded Mr Crowley.