MTU to benefit as Minister Harris announces €42 million investment for ADAPT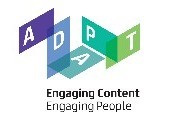 Published on: Monday, 01 February 2021
MTU to benefit as Minister Harris announces €42 million investment for ADAPT, the Science Foundation Ireland Research Centre for AI-driven Digital Content Technology
Feb 1st 2021: The Science Foundation Ireland Research Centre for AI-driven Digital Content Technology, ADAPT, has been awarded funding of €42M to extend its research work over the next six years. Through this new phase, ADAPT will build on its established leadership position.
ADAPT's research vision is to pioneer new forms of AI-driven Digital Content Technology to empower individuals and communities in their work and everyday lives. In particular, ADAPT's research will enable next generation digital engagement, across video, speech, text and immersive technologies, and support inclusion, accountability and appropriate controls.
The Centre's work is driven by the long-term goal of a achieving a balanced digital society by 2030, and it is pioneering new human-centric AI techniques and technologies including personalisation, natural language processing, data analytics, intelligent machine translation and human-computer interaction, as well as setting the standards for data governance, privacy and ethics for digital content.
ADAPT will significantly expand its expertise, capacity and geographical reach by doubling its base of Principal Investigators and Funded Investigators, and by bringing on board four new partner institutions, bringing the total to 8 research bodies (TCD, DCU, MTU, TU Dublin, UCD, NUIM, NUIG and AIT). This expansion will follow ADAPT's established practice of strategically growing its research base through a programme of timely and targeted recruitment as new research opportunities and funding sources arise.
ADAPT's international research leadership, research excellence, industry collaborations, multidisciplinary outlook, strategic national position and the opportunities arising from its scale, ensures that its researchers are highly sought after for collaboration and are highly successful in winning funding from international programmes. The participation in non-exchequer, non-commercial (NENC) funded research across a spectrum of challenges and collaborators promotes research innovation in ADAPT, pushing the frontiers of knowledge creation and delivering new solutions to societal and industrial challenges.
Director of ADAPT and Professor of Computer Science at Trinity College Dublin, Professor Vincent Wade said, "ADAPT welcomes today's announcement of a further €42 million funding from Science Foundation Ireland. Ireland is facing challenges in climate change, in health and in building a resilient economy. We see that investment in higher education is vital to address these challenges and allows us to create breakthroughs in digital content technologies, to train the next generation of researchers and innovators, transfer knowledge into industry, create new jobs and help our society to live digitally successfully."
Photo: Dr Haithem Afli, ADAPT Research Lead and MTU Lecturer
Dr Haithem Afli, ADAPT Research Lead and MTU Lecturer, said "Being part of ADAPT Centre, our MTU group aims to strengthen its position in leading research in the use of artificial intelligence, natural language processing and machine learning in the domains of healthcare, life sciences, digital humanities and fintech. Our researchers are involved in wide-ranging fields of studies that include the design and the implementation of new eHealth use cases, social media analysis and information extraction applications through deep learning algorithms. We focus on how these tools can be easily transferred to the workplace and make an impact on the New-Age Businesses."
Michael Loftus Vice President for External Affairs for MTU said "MTU is delighted to participate formally in ADAPT through the talented representatives in our Department of Computer Science. ADAPT is a superb research centre which conducts excellent and impactful research, and has created a critical mass of talented researchers who are focused on achieving a balanced digital society by 2030. MTU will double its research activity and impact over the next ten years, and engaging with research centres such as ADAPT will contribute to MTU's development in this context. We look forward to continuing our participation in ADAPT in areas that are important to society and the many stakeholder organisations with which we engage routinely."