MTU Launches a Stakeholder Survey on Rural Phosphorous Recovery from Wastewater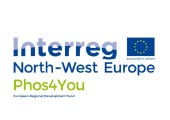 Published on: Tuesday, 23 March 2021
MTU is launching a stakeholder survey as part of the Interreg North-West Europe (NWE) Phos4You project, which addresses rural and urban areas in NWE, in terms of Phosphorous (P) recovery. P is an essential constituent of fertiliser and a valuable resource. Unfortunately, mineral reserves of rock phosphate are depleting on a global scale and thus the European Commission has recently added rock phosphate to its critical raw materials list to ensure the security of supply. It is now important to investigate alternative and sustainable sources of P including P sourced from wastewater.
This stakeholder survey aims to capture the views of key stakeholders in Ireland and Scotland on the recovery of P from wastewater systems in rural areas. According to Dr. Niamh Power from MTU, 'this is an ideal opportunity for Irish stakeholders to voice their opinions on the recovery of phosphorous from wastewater'. The results from this stakeholder survey will inform the development of alternative sources of P and identify potential challenges and opportunities for this P-recovery activity.
For further information on this survey please contact Dr. Niamh Power (niamh.power@cit.ie).