Creativity & Change Workshops 2021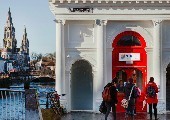 Published on: Thursday, 08 April 2021
Create Awesome Solutions to Global Challenges with Creativity & Change this Summer
Activate your imagination and create a better future for everyone
Creativity & Change is an educational programme based in Munster Technological University's Crawford College of Art & Design (MTU CCAD). The mission of the programme is to nurture change-makers and imagine a better world. Creative transformative learning is at its core. Creativity & Change offers a year-long accredited postgraduate course as well as trainings for those working in non-formal education settings: community, youth work, voluntary groups. The programme also works directly with young people and adults in Cork city. One example of this is the Climate Youth Artivists group who have painted murals along Sullivan's Quay, among many other creative actions.
"At Creativity & Change we explore how the arts can play a role in imagining and creating a better future for everyone. We believe we need to engage the head, hearts and hands of all humans. We call this "transformative learning". Everyone knows that humans face big, complex global challenges right now- climate change, racial injustice, inequality... global pandemics. With so many urgent changes needed, how do we begin to take action? We know that just giving people information about these urgent issues is not enough to change behaviours. In fact, too much information can lead to apathy which reduces our motivation to act" says Eimear McNally, Creativity & Change Facilitator.
At the 2015 United Nations Climate Change Conference (COP21) there was a public art exhibition. Psychology researchers from the Norwegian University of Science and Technology decided to examine the impact of the artwork. They wanted to know: Does activist art have the capacity to raise awareness in audiences? Which artworks would most engage the mind and heart? Which ones were most likely to lead to environmental actions? Of the 37 artworks studied, only 3 made the audience feel like they could do something about climate change. These three art works had shared qualities - they were all "beautiful and colourful depictions of sublime nature that showed solutions to environmental problems." These art works together, were called the "Awesome Solution." Eimear continued "inspired by the idea of the Awesome Solution we want to build our capacity to imagine a better world - and not just imagine but make it tangible, visible and so delightful that others will want to join us to make it a reality. This spring and summer we are hosting trainings, workshops and events that explore this idea. Our experienced facilitators will bring you on a journey of hope, imagination, creativity and action. All activities are subsidised by Irish Aid to ensure they are accessible to as many people as possible."
Are you working with adults or young people? Do you want to know how to creatively engage your groups with the big issues? Deep-Dive trainings, running throughout April and May, are aimed at adult educators, community educators, youth workers, artists, and organisers, ​from all over Ireland. In May there will be workshops for young people and groups of adults who want to experience creative methodologies and come up with their own Awesome Solutions. No artistic experience is necessary- just your passion for change. The trainings and workshops will culminate in a national 'Paste-Up' blitz at the end of May turning streets around the country into a pop up exhibition of Awesome Solutions for the public to encounter, engage, and be inspired by. All Awesome Solutions will also be exhibited in a dedicated online gallery space.
"In May and June we will be coordinating an interactive artistic Tree Trail project and transforming a parking space into a community space - both in Cork city centre. We want to create opportunities for the involvement of everybody in the exploration of Awesome Solutions" Eimear concluded.
Let's harness the power of creativity to make moments of awe throughout communities this spring and summer.
Join and share your awesome ideas with the world.
Sign up on the website below
Twitter: @headhandheart1
Instagram: @creativityandchangecit #AwesomeSolution
Claire Coughlan claire.coughlan@cit.ie
Eimear McNally (Communications) eimear.mcnally@cit.ie
https://www.creativityandchange.ie/non-accredited-training-previously-masterclasses/