Free Training Opportunity: Upskill in Digitalisation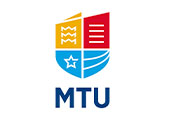 Published on: Monday, 17 May 2021
The IN4.0 Interreg Atlantic Area project, Munster Technological University and the IDEAM Cluster have partnered to offer a free online training opportunity for upskilling of firms, employees and students keen to develop their knowledge in the area of Smart Manufacturing and Industry 4.0.
Just as it is changing the way we live our lives, Digital Technology has the power to revolutionise the way we do business, enabling organisations to increase productivity, tap into new markets and boost profitability as economies globally are facing the varying challenges of Covid-19.
To learn about the new advanced manufacturing technologies driving innovation in traditional manufacturing sectors, a series of six modules have been developed to help learners understand IN4.0 technologies and how they can improve productivity and efficiency to keep learners at the forefront of technological advances.
Dr John Hobbs, senior lecturer at MTU notes that, "the IN4.0 project has made three courses available each of which would be advantageous to allow those interested in applying new technologies in their own firms, or upskilling of ones knowledge of digitilisation. Each course combines two modules and a short test, which when completed satisfactoraly provides certification of completion. Participants can pick and choose the most relevant (or all three) courses of interest to them. The training can be undertaken at any time online, through the dedicated e-learning platform."
The courses which form part of this training offering are:
Course 1: Fundamentals of Industry 4.0, People and Change Management
Course 2: Digital Manufacturing Related Key Enabling Technologies (KET)
Course 3: Digital Factory: Manufacturing Intelligence for Engineering and Production
Interested parties can register for the courses via the following registration link:
Participants can register anytime before the 14th of June 2021, and content will become available online from 48 hours after your registration until the 30th of June, 2021.
IN4.0 is a funded Interreg Atlantic Area project which runs from the 1/11/17 to 31/08/21 and brings together 10 partners from Spain, France, Ireland, Portugal and the UK including the V-LINC group in Munster Technological University. The project aims to connect the traditional shipbuilding manufacturing sector with companies involved in industry 4.0 technologies to support their manufacturing capabilities. The training is extremely relevant for all manufacturing firms and students wishing to learn about these
For more information on this course please contact Yvonne O' Byrne, IN4.0 Project Manager, Munster Technological University at yvonne.obyrne@cit.ie.