MTU Win 3 Categories at BICS Awards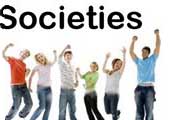 Published on: Monday, 19 July 2021
MTU societies were victorious after being awarded three national award titles at this year's Board of Irish College Societies (BICS) Awards.
Despite the impact of COVID-19 and the move to remote learning for the academic year, MTU Societies were extremely active, with 30 Societies representing and a membership of over 1,150 students. The Societies held over 400 events online which included workshops, games night, guest speakers and an award winning event, The All Ireland Choral Intervarsities for which the Glór Choral Society was awarded Best Intervarsity and Best Event.
It was celebrations also for the WiSTEM committee who were presented with the Best New Society award. The 12 strong committee held a mix of social fun online events like Yoga classes, a cook along and quiz night, specifically targeting freshers in the hope of encouraging them to get a taste of the college experience. Co Chairpersons Orlaith McGowan and Ciara were very proud of the society they started and has spent most of it's times, online. "The committee team have created a space for Women in STEM in MTU as well as STEM students across Ireland. We wanted to create a safe space for women to meet and make friends."
Student societies are a path to a greater experience of higher education to build friendships which will last far beyond your college years and gaining skills which are just as valuable as you any you will learn in a lecture hall.
Despite the unprecedented challenges faced by all of us across the past seventeen months, due to the hard work and dedication of all of all of our members we still managed to function as an organisation despite the fact that Covid 19 went against some of the most basic tenets of student life; people coming together with shared interests.
Aoife Kelliher – MTU Cork Campus Societies Officer gave an insight to the contribution societies made to the student experience during lockdown: "Societies this year gave people hope. I was pleasantly surprised with how many students continued on in committee roles. I feel many of them were glad to have an outlet to contribute positively in such uncertain times. The role societies played this year in giving students a sense of belonging, was even more significant. Peer to peer engagement was at a premium this year but through continuing societies activities online, we created a space where it continued. That was invaluable"
The 2021 BICS online awards was broadcasted live from the Sheraton Hotel Athlone. The team at BICS spent several months planning the most interactive awards show for students and staff across the country and featured an impressive online set-up with over 250 groups streaming in to watch the awards live, from their homes and outdoor dining set ups, in line with government regulations.
BICS is a national organisation that was founded in 1995 and whose role is to provide a national forum for the societies in Ireland's Universities, Colleges and Institutes of Education.
BICS continues to grow, and they now have 18 colleges, 742 societies with 50,000+ students represented across Ireland. They act as an information resource and support mechanism for society administrators, promoting the sharing of ideas and the implementation of best practice.