MTU student wins Ireland's first-ever U-23 European Championships Race Walk Medal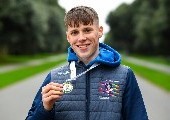 Published on: Sunday, 18 July 2021
MTU student wins Ireland's first-ever U-23 European Championships Race Walk Medal following news of his selection for the Olympic Games in Tokyo
A third year Mechanical Engineering Student at Munster Technological University has made history by winning Ireland's first-ever race walk medal in the European U-23 Championships in Tallinn, Estonia in early July, taking home a silver medal for Ireland.
The unprecedented win for David Kenny, a 22-year-old from Rusheen in Ballyhar, County Kerry, follows hot on the heels of the exciting news announced last week of his official selection to the Irish Team for the Tokyo Olympics, and his first-place victory in the National Senior 20km Race Walk Championships in June.
Over the past three years, Kenny, who is a member of Farranfore/Maine Valley Athletics Club, has been coached by Rob Heffernan, the 2013 world 50km race walk champion, and has been training for the championships with two vastly experienced race walkers, Brendan Boyce, a veteran of two Olympics, and Wayne Snyman from South Africa.
Currently in Spain in final preparation for Tokyo, Kenny said yesterday: "I am excited to take the next step in my sporting journey. The last year has been a very strange one and the goalposts kept moving but the goals remained the same, qualify for the Olympics and win a medal at the European U23 Championships. Thank you to all at MTU Sports, the scholarship funding has helped me to travel to numerous races around Europe and the scholarship webinar series helped me to learn about important topics such as Stress, Nutrition and Sports Psychology".
Staff and students at MTU are looking forward to cheering Kenny on during the Olympics and will be following the competition closely. Craig Harrington, Athletics Development Officer at MTU said: "We are immensely proud of David and his tremendous achievements to date. All at MTU are fully behind him supporting his bid for victory in Tokyo. We know how hard he has worked to achieve this high level of success and it is wonderful to see all his hard work and dedication pay off. "
MTU is a university with a strong sporting tradition, boasting some of the finest facilities in Ireland. In June 2020, construction commenced on a new €22 million MTU Arena in Cork which will be another major boost to MTU's sports facilities, and which will include a large multi-function hall incorporating two basketball courts with seating for an audience of 400 people, a gym and studio rooms. Half of the new sports arena will be dedicated to the sport of athletics, with Athletics Ireland helping to fund it.
To underline its commitment to sport, MTU annually awards sports scholarships for a wide range of sports. The scholarships, many of which are sponsored by external stakeholders such as Munster GAA, Kerry GAA, Tralee Rugby Club and Kennedy Coaches, range in value from €500 to €1,500. MTU recognises talented sports people from a wide variety of sports including athletics, basketball, boxing, camogie, GAA, golf, handball, hockey, ladies' football, orienteering, powerlifting, sailing, and soccer. Scholarship benefits include access to all MTU sports facilities including the elite gym & weights room, sports education talks and workshops, and a mentoring support network. These scholarships provide valuable assistance to students in their quest for sporting excellence.
Further information on how to apply for an MTU sports scholarship is available on the MTU website at: http://www.mycit.ie/sport/bursaryprogramme.