MTU Alumni Scale New Heights at Mount Everest Base Camp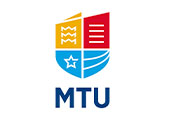 Published on: Tuesday, 19 April 2022
Fulfilling a lifetime dream, George Bulman, Operations Manager at MTU's Rubicon Centre, and his son, Ciarán, Programme Development Lead at Malta Services in Drogheda, travelled to Mount Everest Base Camp last month. They flew out from Ireland as part of a group of sixteen, which included an Irish guide and an Irish doctor. When they arrived in Nepal, the group was accompanied by five Sherpa guides and five yaks which carried their provisions.
George and Ciarán began planning their trip of a lifetime a number of years ago and, after their adventure had to be deferred twice due to the COVID-19 pandemic, they finally set off from Dublin Airport on the 30th March for Katmandu. From there, they flew in a 15-seater plane to Lukla Airport in the mountains, which has the reputation of being the most dangerous airport in the world as the greater the altitude, the lesser the air density, meaning that planes need to land at faster speeds. Beyond the perils brought about by the length and elevation of the runway, Lukla Airport is also made precarious by the harsh surrounding landscape.
George Bulman said: "We started trekking from Lukla Airport and each day we walked for approximately six to eight hours, gradually climbing higher each day. We had to take a daily dose of Diamox to help with altitude sickness. In all, we walked for thirteen days to get up and down and the highest point we reached was at 5,600 metres. Our longest walking day was eleven and half hours".
At 4am one morning using headlights, George and Ciarán climbed to the Kala Patthar Peak at 5,600 metres. According to George: "It was so cold that morning, our water bottles froze, but when we reached the summit and saw the sun rising over Mount Everest, it was spectacular. The size, scale and beauty of the mountains could not be captured by a camera, one would have to see it to appreciate it."
The group had to cross over a number of large gorges using swing bridges, which was definitely not for the faint hearted as some of these bridges stretched 200 metres upwards. They dined on local cuisine which consisted of eggs, porridge, bread, soups and Dal Bhat, a Nepalese dish made of lentils and rice.
George said: "The tea houses that we stayed in on the mountain were very cold and you just jump into your sleeping bag each night for heat. The stoves in the main dining rooms were fueled by burning the dried yak faeces, so there was a nice aroma as you can imagine, but we were glad of the heat."
All in all, it was a really wonderful experience and to think that we were at the foot of the tallest mountain in the world is unbelievable. It was also great to walk across the glaciers and see all the different types of rocks and stones. I found it strange to see sand up on the mountains but then we must remember that these mountains were once under water."
George and Ciarán are both MTU Alumni, and were proud to fly the MTU flag at the Mount Everest Base Camp.
Michael Loftus, Vice President for External Affairs at MTU said: "Congratulations to George and Ciarán for completing such a challenging adventure together. We are delighted that, as MTU Alumni, they brought our flag on this journey and unfurled it at the Everest Base Camp. In their day-to-day roles, they have inspired and supported many colleagues and collaborators. This latest achievement will inspire many more to pursue their dreams in the future."