Building A Skilled Future: MTU announces sponsorship of WorldSkills Ireland 2022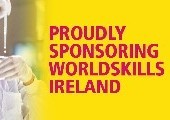 Published on: Tuesday, 06 September 2022
MTU is proud to announce its sponsorship of WorldSkills Ireland, returning to the RDS Simmonscourt, Dublin, from 13th – 15th September 2022.
A partnership between enterprise, industry, education, training, and government, WorldSkills Ireland raises the profile and recognition of skills and apprenticeships and prepares the talent of today for the careers of the future, and we are thrilled to be onboard supporting the show.
Taking place under one roof, free to attend and packed with interactive events, demonstrations, talks and competitions, WorldSkills Ireland will present a wide selection of options, careers and pathways to excite every type of student.
Offering a unique opportunity to learn about different industries, discover exciting job pathways and options for a vocation in the skills and trade industry, it is a fantastic event for MTU to support employees of the future and secure a pipeline for skills through apprenticeships, providing a systemic solution to today's skill and business challenges.
prospectivestudents.tradeapprenticeships
A must-attend event, WorldSkills Ireland is set to inspire the next generation of skilled young people to follow their passions, interests and talents. For further information on WorldSkills Live, please see www.worldskillsireland.ie or follow WorldSkills Ireland on social media.
To visit us at the show, register for free via www.worldskillsireland.ie
Get a taste of Worldskills with this Worldskills Ireland 2019 Highlight video link... https://youtu.be/StBcoaNH2d8