MTU Launches Ambitious "Our Shared Vision" Strategic Plan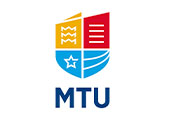 Published on: Monday, 03 October 2022
MTU Launches Ambitious "Our Shared Vision" Strategic Plan
"The launch of MTU's first strategic plan, 'Our Shared Vision', is an historic milestone for our staff and students, as we build on past successes and work together to become a truly great, internationally competitive technological university," says Professor Maggie Cusack, President of MTU.
"Our Shared Vision" places a major emphasis on delivering outstanding learner education and experience to produce work-ready graduates; increasing investment in MTU's staff and the communities within which MTU is embedded; achieving significant growth and impact across MTU's research, innovation and entrepreneurship ecosystem; leading regional development; and adopting a global outlook across all of MTU's activities.
To achieve these strategic outcomes, MTU has identified key strategic enablers which will ensure the ongoing success of the University. These are the proactive pursuit of equality, diversity and inclusion principles across all of MTU's activities; continuous focus on sustainability and alignment with UN sustainable development goals; collective commitment to a multi-campus technological university; investment in enhanced digital infrastructure and capabilities; and development of state-of-the art physical infrastructure and capabilities across MTU's campuses.
Minister Simon Harris TD presided over the launch of "Our Shared Vision" on 3-Oct-2022 at 11am on MTU's Kerry North campus.
Speaking at the event, Minister Harris said: "At a time when the world is facing major challenges in areas such as climate change and geopolitical instability, the importance of higher education has never been greater.
"We will need to maximise our ability to produce talented and responsible graduates who can lead, innovate, create, inspire and transform. We will need these graduates in every village, town, city and region in Ireland if we are to achieve the ground-up community engagement required to succeed in a sustainable manner.
"The development of MTU will prove to be transformative for the South West Region. We now have the vision for the next five years.
"With the support of my Department and additional investment, MTU can be a TU with a global reach."
According to Professor Cusack, the development of MTU has been an unqualified success to date. Since its establishment, demand from CAO applicants for MTU's courses has been very strong. In addition, MTU's total research expenditure continues to feature at the upper end of the scale across Ireland's Technological Universities.
With a further huge increase to come in the number of students seeking higher education opportunities across the South West, the launch of MTU's new strategic plan could not have come at a better time. Professor Cusack said "MTU will continue to play a leadership role in the strategic development of the South West Region, and, in so doing, will adopt a global outlook and inclusive value system. MTU will anchor the development of the South West Region, while participating fully on both the national and international stages. We will play a central and strategic role in ensuring that there are fantastic opportunities for all to achieve their full potential in education, in life and in their careers."
MTU has a student enrolment of more than 18,000 across 6 campuses and offers more than 140 programmes of study. MTU is the first new university to be established in the South West since 1845.