Student Entrepreneurs Rewarded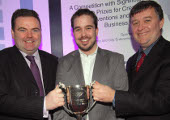 Published on: Tuesday, 08 March 2011
First prize, the coveted title of Cork Institute of Technology Entrepreneur of the Year 2011, and a cash prize of €4,000, was awarded to Myles Murray of PMD Solutions, a student of CIT's Department of Mechanical Engineering. His project, 'Breath Counter: The Patient Friendly Respiratory Rate Monitor' was supervised by Senior Lecturer, Seán F O'Leary, who is also the supervisor of Mark Quigley. Mark was awarded First Place Undergraduate Student at the 23rd Annual International Medical Engineer Project Competition in London recently.
Eamon Hayes, also a student of Seán F. O'Leary in the Department of Mechanical Engineering, was awarded the "Most Technically Innovative" with a prize of €2,000. His project, SafetyFirst, a cover system that can be retrofitted to any wire rope barrier system, will, while retaining all the positive features, remove the 'cheese cutter' effect.
2011 marks the 9th Anniversary of the highly successful competition, sponsored by the Cork County and City Enterprise Boards. The competition, for CIT students, is a two-day event featuring an exhibition of Innovation and Enterprise. The awards where presented by John Mullins, CEO of Bord Gáis Eireann, who also delivered the Keynote Address. Mr Mullins noted that the event was a unique opportunity for Innovators to come together, he said, "the projects and talents on show here today show that there is a very bright future for the Irish economy."
Innovation Week celebrates and showcases innovation and entrepreneurial activity across CIT. It includes events highlighting the entrepreneurship and innovation supports available to industry, through CIT's special industry centres and the Rubicon Centre.
On the 9th March, a seminar, "Putting Social Media to Work for Business" brought together social media experts and Irish business people to discuss the ways in which the social media revolution can be used to benefit businesses, large and small.

Pictured at the event are Douglas Kelleher, Chairman of South Cork Enterprise Board; John Mullins, CEO, Bord Gáis Eireann; Myles Murray, CIT Entrepreneur of the Year; and Seán O'Sullivan, CEO, South Cork Enterprise Board.