CIT Sailing Team Head Off to Reclaim World Student Yachting World Cup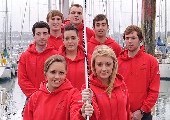 Published on: Tuesday, 18 October 2011
CIT's Sailing Team departed on Wednesday, 19th October, to represent Ireland at the 31st Student Yachting World Cup. The regatta, which takes place in Brittany from October 22nd to 30th, will see CIT compete to regain the title they first won in 2008. CIT were victorious at the Student Yachting Nationals in October 2010 which earned them the right to represent Ireland at the World's. The team consists of Skipper George Kenefick, Joe Bruen, Donagh Good, Kevin Goulding, Maria Connolly, Gemma Twohig, Judy O'Brien and Aidan Mc Laverty.
The Student Yachting World Cup takes place annually and attracts the best student sailing teams from all over the world boasting entries from countries such as Australia, Canada, Japan, the UK and the USA.
This is the 4th time that CIT will take part in the competition; they were runners up in 2007 and won the title in 2008. The event consists of 7 days of high intensity, technical, fleet racing, including coastal and night races.
Skipper, George Kenefick, has high hopes of making history by bringing the cup back to Ireland for the second time in 5 years. One of Ireland's best known sailors, George was guest helm on Michael Kershaw's ŒChimp' the overall winner of the 2011 Classic Half Ton Cup at the Royal Corinthian Yacht Club in August and has this month been crowned the ISA All Ireland Champion. "Preparations have gone very well, we are in good shape, training on the water and working out in CIT's Elite Gym," says George. "We have secured sponsorship with Bank of Ireland, Euro Car Parks, Avis Ireland and Musgraves which has provided us with the financial support necessary to compete to the highest level."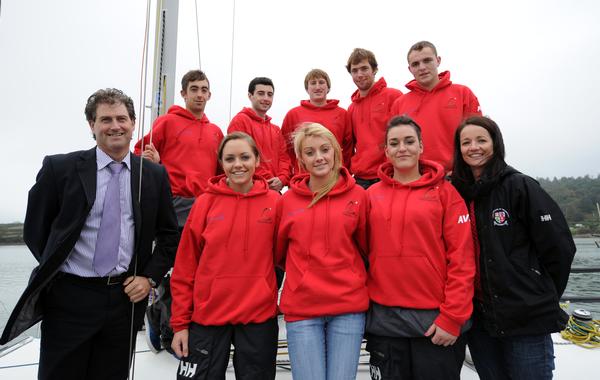 The CIT Team:

George Kenefick, from Cork City, is the skipper of the team and it's his fourth time attending the championship in five years. George has just completed his four-year degree in Business and Management. He has regularly been competing in Championships around Ireland and the UK. He had his biggest victory to date winning the Half Ton Cup 2011.
Joe Bruen from Monkstown, Co. Cork, is a member of Monkstown and the Royal Cork Yacht Club. He has just completed a four-year degree in Structural Engineering. This is Joe's fourth time going to the Championship in five years. Joe had a spectacular summer sailing, winning Two National titles, one European title and the Corinthian Cup at the Coutts Quarter Ton Cup. Joe is team boss for the crew.

Maria Connolly is from Skibbereen, Co. Cork and is currently studying Information Technology Management; she was recruited for her first ever National sailing event last year for the Qualification trials for SYWOC. Maria's slotted straight into the team and is a vital member.
Donagh Good is from Curabinny, Co. Cork and is currently the chairman of CIT Sailing Club. He is in 3rd year of Business and Marketing. Donagh brings a vast amount of experience to the team and this is his second time attending the Championship. Donagh won the Laser Junior National Championships in 2007 and has been a CIT Sports Bursary recipient for the past two years.
Kevin Goulding is from Ballygarvan, Co. Cork and was a vital member of the qualification of CIT at the Student Yachting Nationals. Kevin is in third year of Chemical & Bio-pharmaceutical Engineering and is a member of the Royal Cork Yacht Club. Kevin has been sailing with Joe and George all summer on board "Tiger" the Faroux designed quarter tonner, picking up achievements in Ireland and the UK, including the Royal Corinthian Cup at the Coutts Quarter ton Cup, IRC National Championships. This is Kevin's second time competing in the Student Yachting World Cup.
Aidan McIaverty is from Belgooly, Co. Cork and he is studying Health and Performance Science. Aidan has many national titles to his name including winning the Laser Radial National Championship, back to back, in 2007 and 2008.
Judy O'Brien is from Monkstown, Co. Cork and has been sailing with CIT sailing team for the past year. It will be Judy's first time in a yacht-racing event.
Gemma Twohig is in first year studying Social Care and hails from Berrings, Co. Cork. Gemma was recruited into CIT sailing team at Sports and Societies Day. She is a qualified sailing instructor and has been heavily involved in the Squib fleet in KYC. Gemma has completed her Sea Survival Course. She is currently a Garda Reserve.