Event: /// OUTBOX /// – CIT CCAD MA: ART & PROCESS End of Year Exhibition
Thursday, 29 November 2012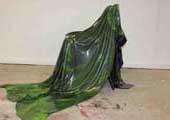 Location: Ground Floor, 9/10 Copley Street, Cork, Ireland
30th November – 14th December
11am – 5pm daily.
Closed Sundays
OUTBOX exhibition opens on Thursday 29th November at 6pm - with guest speaker Fiona Kearney, Director, Lewis Glucksman Gallery.
CIT CCAD'S MA in Art & Process students will take over an unused space on Copley Street to house their end of year exhibition. The diverse practices of this grouping intersect through the use of process and share a system of enquiry which is iterative, fundamentally explorative, and based on observation. This exhibition crosses a range of media including; painting, installation, sound, sculpture, lens based work and performance.
The 12 artists are; Rebecca Bradley, Tom Crean, Feargal Cunningham, Julie Forrester, Elaine Lehane, Sharon McCarthy, Toma McCullim, Deirdre McPhillips, Sally O'Dowd, Sarah O'Flaherty, Sarah Ryan, Pádraig Spillane.
OUTBOX will include a series of discursive and performance events from MA:AP members over the duration of the exhibition.
Sat 1st Dec 2 - 5pm An afternoon of poetry writing to be published on the day
Mon 3rd Dec 5pm Conversation on the psychology of portraiture with Pádraig Spillane
Wed 5th Dec 1 - 2pm Conversation on the materiality of paint with Sharon McCarthy
Sat 8th Dec 3pm Interpretative Sugarcraft Workshop with Sally O'Dowd
Sat 8th Dec 4.30pm Conversation on sound sculpture and the human body with Tom Crean
For further information please email: maartandprocess@gmail.com
MANUAL, a publication designed by Niall Sweeney (Pony Ltd.) with new texts by Adrian Duncan (Paper Visual Art Journal), Matt Packer (Lewis Glucksman Gallery) and Julie Forrester (MA:AP course member), will accompany this exhibition. This publication will include full details of all exhibiting artists and the MA programme. MANUAL will be available at the Copley Street site from the opening evening.
- - - - - - - - - - - - - - - - - - - - - - - - - - - - - - - - - - - - - - - - - - - - - - - - - - - - - - - - - - - - - - - - - - - - - - - - - - - - - - - - - - - - - - - - - - - - - -
MA: Art & Process (MA:AP) is a challenging and stimulating taught masters in Fine Art at CIT Crawford College of Art & Design that is delivered over the calendar year from end January to December. Applications now being accepted for starting end January 2013 – Extended closing date for applications Friday, 21st December 2012. NEWSLINK