Event: Noli Me Tangere / Touch Me Not
Friday, 16 November 2012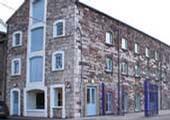 Backwater Artist Group Exhibition 2012
CIT Wandesford Quay Gallery, Cork


Opening 16th November at 6pm
Exhibition runs until 1st December
| | |
| --- | --- |
| Noli Me Tangere, meaning, "don't touch me" / "touch me not", "cease holding on to me" or "stop clinging to me" is an iconographic staple of the Christian Art cannon. Moving away from its inherent religious associations through a playful form of subversion, this exhibition aims to reposition this statement in relation to contemporary artistic practice. | |

Noli me tangere, when viewed through the lens of these artworks, creates an in-between state, bordering the surreal, conjuring associations of the supernatural and the otherworldly. This statement can simply be interpreted as a physical distance between viewer and subject while some works suggest a conceptual intangibility, where the viewer is faced with an ambiguity of intention. In positioning the work as either the threat or the threatened, an element of danger and vulnerability comes into play.

Social conventions and gallery etiquette obviously oppose a tactile enquiry in relation to artworks - do not touch. The sentiment however, to 'cease holding on to me', can be read as a playful dialogue with the viewer, insinuating an intimacy while acknowledging the limited powers of communication.

Curated by Tom Dalton and David Upton, the show features the work of 14 artists from the Backwater Artist Studio Group and a specially commissioned text piece by independent writer Claire Eleanor Healy.