National Education Magazine Features CIT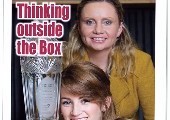 Published on: Saturday, 18 January 2014
The January 2014 issue of the National Education Magazine has just been published and distributed to all second level schools, third level colleges and other organisations throughout Ireland.

Cork Institute of Technology recent achievements in design, innovation and entrepreneurship are featured on the Front Cover and Six Page Lead Article titled "Thinking Outside the Box at Cork Institute of Technology".

Electronic copies of the featured pages in National Education Magazine are copied below with permission.