CIT Student Wins Silver in National Hospitality Cocktail Challenge 2014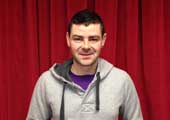 Published on: Wednesday, 05 February 2014
Patrick Curran, a first year student on the CIT Bachelor of Business in Bar Management in the Department of Tourism & Hospitality was awarded 2nd place in the hard fought 'National Hospitality Student Cocktail Challenge' on Wednesday 5th February, 2014, which was held in Dublin's RDS.
Patrick impressed the judges with his skill and presentation of a self-created cocktail called 'The Honeypot' and in the final judging was awarded 2nd place in Ireland in this student challenge. Students from all over Ireland competed for this prestigious title.
Gail Cotter-Buckley, Bar Management Lecturer at CIT praised Patrick's knowledge and interest in the area of cocktails and said "Patrick was a very worthy prize winner who works hard to reach a high level in his skills area and this is a marvellous achievement for a student who is a first year student embarking on their studies in Bar Management". Patrick returned to CIT today with the trophy and the professional cocktail equipment which he received as his prize and was congratulated by his fellow students and his lecturers in the Department of Tourism and Hospitality.
The Department of Tourism and Hospitality at CIT encompasses the areas of Culinary Arts, Tourism, Hospitality and Bar Management. It has over 700 students and a team of dedicated student-centred industry experienced Lecturers across these disciplines and is located in a modern purpose-built building on CIT's Bishopstown Campus.