Faculty of Engineering & Science STEM Graduate Achievement Award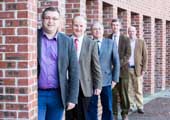 Published on: Tuesday, 11 March 2014

Master Distiller Brian Nation
On the 11th March, 2014, the professional achievements of Brian Nation, Master Distiller at Irish Distillers, Pernod Ricard, were recognised by CIT's Faculty of Engineering & Science. Brian, a graduate of CIT's Chemical Engineering programme, has been selected as the first graduate to receive the Faculty's STEM Graduate Achievement Award.
These awards have just been introduced in CIT to recognise graduates whose work in science, technology, engineering or mathematics (STEM) has made a significant contribution in a professional context.
When Barry Crockett, Midleton Distillery's long-serving Master Distiller, decided to retire in 2013 after working at the distillery for 47 years, Brian was chosen to be his successor. Now he plays a pivotal role at the distillery that makes a wide range of the world's most respected whiskeys.
Brian chose to complete a degree in chemical and process engineering in CIT when he completed his Leaving Certificate. In 1997, an opportunity arose at Irish Distillers in Midleton and he grabbed his chance with both hands. He worked his way through a range of process-related roles there before finally being selected as Master Distiller in 2013.
His approach to his job is to carry on the tradition he has inherited with the same dedication and attention to detail that was instilled in him by Barry Crockett in the 10 years they spent working together. "My main aim is to work with the great team we have at Midleton and continue to create whiskeys of the finest quality," he says.
Brian was a key member of the project team which was headed up by Tommy Keane, General Manager, that led to the expansion of the distillery in Midleton over the last two years, a development that offers significantly increased production capacity and flexibility in new product development. He enjoys working in the distillery environment as his job there is varied, challenging and exciting.
Michael Loftus, Head of Faculty of Engineering & Science at CIT, stated that "Brian is one CIT's professional STEM graduates and we are delighted to recognise his achievements. He fills a demanding role with great composure and a dedication to excellence, characteristics that we encourage our students to develop during their time in CIT."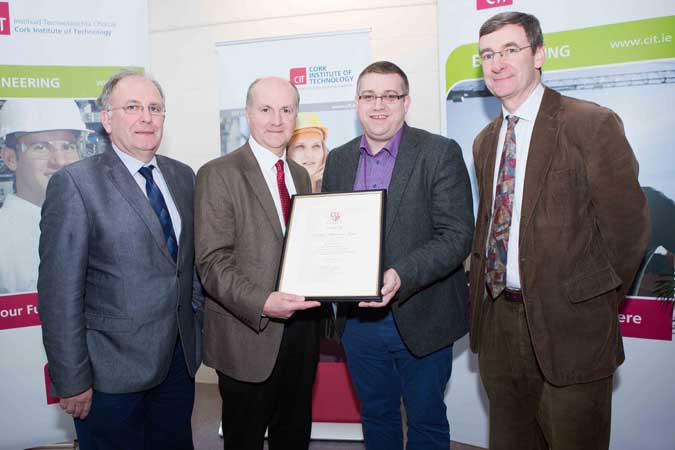 (L-R) Matt Cotterell, Head of School Mechanical & Process Engineering; Michael Loftus, Head of Faculty of Engineering & Science; Recipient of the Graduate Achievement Award, Brian Nation, Master Distiller/Irish Distillers, Pernod Ricard; and Noel Duffy, Lecturer in Chemical Engineering; .
Pic Darragh Kane
.........................................................................................................................................................................................................................