VMware Leader Honoured in CIT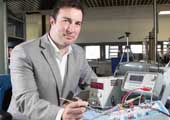 Published on: Saturday, 15 March 2014
The professional achievements of John Dolan, Vice President of Global Technical Support for VMware, based in Cork, have been recognised by the Faculty of Engineering & Science in CIT. John, a CIT electronics graduate, was recently selected to receive the Faculty's STEM Graduate Achievement Award.

These awards were introduced to recognise graduates whose work in science, technology, engineering or mathematics (STEM) has made a significant contribution in a professional context.
The global support organisation that John leads employs approximately 1,300 individuals based in North America, South America, Europe, the Middle East, Africa and Asia. Prior to taking on this role, he led the VMware EMEA technical support organisation and was instrumental in establishing the overall Cork operation, being its first employee in Cork.
Previously, John was based in Boston, Massachusetts, where he worked for EMC and filled the role of Global Director of Technical Support Level II Hardware. In this role, large sections of his team were located across more than 28 cities globally.
John understands that creating a supportive work environment leads to high employee motivation and his passion centres around creating teams of people with positive attitudes that work well together and drive the business forward as a unit. John is also a very strong believer in the economics and positivity of trust in the work environment.
John is married and is the father of three children. He is an avid windsurfer but spends most of his spare time on the sideline of a GAA pitch.
Michael Loftus, Head of Faculty of Engineering & Science at CIT, stated that "we in CIT are incredibly proud of John's achievements. His professional track record is incredible and his contribution to the development of the greater Cork region is immense. He is an outstanding role model for the next generation of CIT STEM graduates."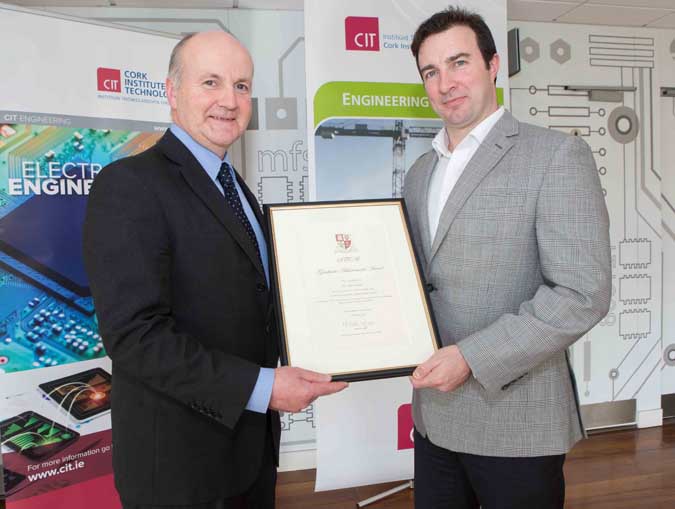 John Dolan, recipient of the Cork Institute of Technology Faculty of Engineering & Science STEM Graduate Achievement Award with Michael Loftus, Head of Faculty of Engineering & Science.

Image Credit: Darragh Kane