CIT Mech Eng Graduate John Roberts wins European Student Innovator of the Year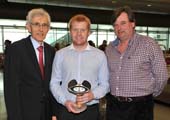 Published on: Thursday, 03 April 2014
Cork Institute of Technology Mechanical Engineering Graduate, John Roberts from Carrigaline in Co. Cork, has been awarded the European Student Innovation Campus Trophy and €3,000 Award at The European Student Innovation Campus Finals, Innovact 2014, in Reims, France. John is now the European Student Innovator for 2014.

Image Credit © Guillaume Gellert – Reims in France

First place went to John for PyraAid, a Wheelchair Enablement Device. John's project deals with the design, development and testing of Pyra-Aid, a retro fitted, user friendly, momentum powered mechanical device to aid in mounting of single steps or kerbs.
This is the second victory in this European wide competition for CIT. Dr Kieran O'Callaghan, also a CIT graduate of mechanical engineering, was the first-ever Irish student to win European Student Innovator of the year in 2012 for his project, Aqua Eye.
CIT President, Dr Brendan Murphy said: "This is the second time in as many years that CIT has won this prestigious competition and is testament to the quality of our students, staff and graduates. My sincere congratulations to John and to all of those involved in bringing this award to CIT, especially to Sean F O'Leary who continues to inspire his students who achieve at national and international level."
Matt Cotterell, Head of School of Mechanical, Electrical and Process Engineering at CIT said: "We are delighted to receive news of John's wonderful success in France and we believe he embodies the attributes that employers value in our engineering graduates. John developed a concept from an idea into reality, using advanced design and analysis tools and the resulting product has not only great commercial potential but can also contribute to independent living for wheelchair users. We wish to congratulate all staff, students, state agencies, and John's employers (PM Group), who assisted John and his family for the support they have given him throughout his academic formation in CIT."
John himself paid particular tribute to his third year Multidisciplinary Engineering and Business Third Year student colleagues Siobhan Hickey, Alan O'Reilly, Laura Hannon, Sandra Hayes, Thomas Thornton and Stephen O'Brien, who were central and crucial to the early inspiration and development of the enablement project and whose support and encouragement persuaded him to continue with the project as a most challenging and rewarding final year capstone mechanical engineering project.
"This is a wonderful credit to John, his family and the entire CIT Research Community" said Minister for Research & Innovation, Séan Sherlock, TD., "his design is simple yet highly effective – as most of the brilliant ideas in this world are. I want to pay tribute to his ingenuity which has a real practical effect for people in wheelchairs. He is a testament to the strong research ethos in CIT and Cork as a whole."