Louise Roe, Ireland's first female Engineers Ireland Chartered Engineer of the Year, receives CIT STEM award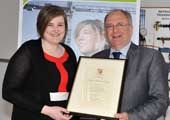 Published on: Tuesday, 20 May 2014

The professional achievements of Louise Roe (Connolly), Consultant Engineer in ESBI, have been recognised by the Faculty of Engineering & Science in CIT. Louise, a graduate of CIT's Mechanical Engineering Programme, has been selected to receive the Faculty's STEM Graduate Achievement Award.
These awards have been introduced to CIT to recognise graduates whose work in science, technology, engineering or mathematics (STEM) has made a significant contribution in a professional context.
Originally from Innishannon, Co. Cork, Louise graduated from CIT in 2004, completing a BEng (Hons) in Mechanical Engineering. She then joined ESB International. She is currently a consultant engineer in ESBI's Generation Engineering Department and works on Irish and international power plant and gas pipeline projects. She has worked in Ireland, the UK and Spain in engineering and project management roles for power generation projects.
In 2011 Louise was announced as the first female winner of the Engineers Ireland Chartered Engineer of the Year Award.
Michael Loftus, Head of Faculty of Engineering & Science at CIT, stated that "Louise is a fantastic role model for all students interest in STEM areas. The excellence of her work has been widely recognised and her contribution to the successful completion of several major international projects of note has been outstanding. She has set an example for our STEM graduates to follow for many years to come."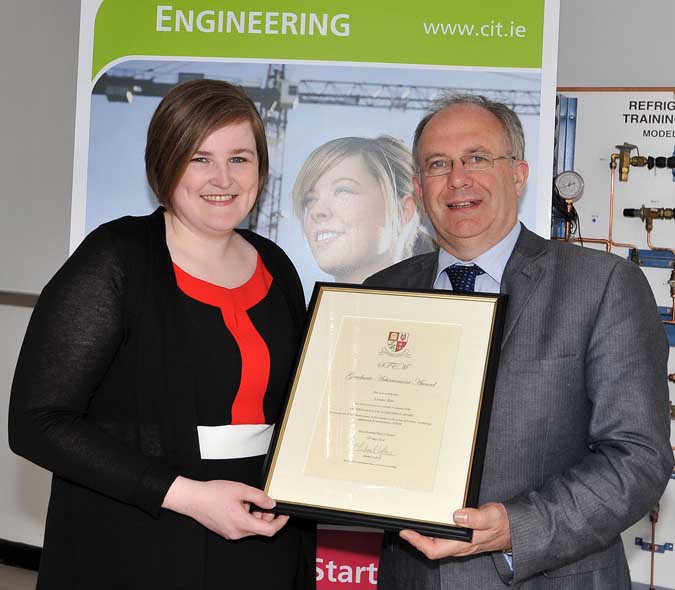 CIT graduate Louise Roe from Innishannon, Co Cork, is presented with the CIT STEM Graduate Achievement award by Matt Cotterell; Head of CIT's School of Mechanical, Electrical and Process Engineering.
Photo credit: David Keane.