CIT offers condolences to the families and friends of the students who died in California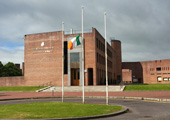 Published on: Wednesday, 17 June 2015
Cork Institute of Technology (CIT) wishes to extend sincere condolences to the families and friends of the students who died in the tragedy in Berkeley, California. As members of the wider higher education community we share in their loss and empathise with the impact these tragic events will have on loved ones, fellow students and their institutions.
CIT President Dr Brendan J. Murphy expressed his shock at the sad events. "This was a shocking tragedy and the loss of life is truly heart breaking. My deepest sympathies go out to the bereaved families at this sad time. My thoughts are also with their fellow students and the staff and management of their institutions who will also feel this loss deeply. We also continue to keep in our thoughts those who were injured in this tragic accident".
CIT has opened a book of condolence at its Bishopstown campus to allow the CIT community and members of the general public express their sympathies.