CIT calls on students to consider Tech careers ahead of CAO deadline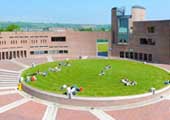 Published on: Friday, 26 June 2015
In advance of the CAO change of mind deadline on 01 July, Cork Institute of Technology (CIT) encourages students in Cork to consider a career in technology.
With 6,000 job vacancies currently in the technology sector alone, CIT wants to ensure that prospective students are fully aware of the opportunities available to them if they pursue a Computing course.
Vacancies in the technology sector have increased by 89% since the start of 2011, while earnings in the sector have also risen by 15% over the same period.
With almost 2000 additional graduates with Computing skills required per year from 2018, there is massive potential for students who choose a Computing course.
CIT has over 200 places for students on cutting edge computing courses, available for students to commence this autumn.
Forty free ICT course places are also on offer via Springboard+, with full-time conversion options. See www.springboardcourses.ie to view courses and apply. 87% of Springboard+ ICT conversion graduates nationally secured employment in the industry over the past 18 months.
Commenting ahead of the CAO deadline, Tim Horgan, Head of Department of Computing said:
"Ireland is host to major international companies in the social media, video games and software industries as well as a growing indigenous base of Irish tech companies. All of these companies require a steady stream of graduates to fill the jobs being created on a weekly basis. They need graduates with a range of Computing skills, in particular analytical thinking and programming. People with Computing skills can look forward to rewarding careers, working in cutting edge fields."
CIT offers a range of supports for incoming students on Computing courses, including excellent teaching, learning, and guidance. Our graduates secure high quality jobs in companies in the region that include IBM, EMC, VMware, Fireeye, Tyco, VCE, eSentire, Intel Security, Qualcomm, Trend Micro, Pilz, Pivotal and Apple to name but a few.
A dedicated resource www.SmartFutures.ie is also available to support people in the career decision-making process. The site features real life career stories and video interviews with people working in a range of diverse industries including space technology and cybersecurity.