CIT CCAD at Forefront of "Creativity and Change"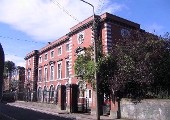 Published on: Thursday, 23 July 2015
A CIT Crawford College of Art and Design publication on "Creativity, Resilience and Global Citizenship" was launched at CIT CCAD's Sullivan's Quay Campus by Minister of State at the Department of Foreign Affairs, Sean Sherlock TD.
Creativity and Change comprises a number of programmes for artists, youth workers community workers, educators and volunteers who are engaging with learners and communities and who want to bring a global perspective to their work and are interested in creative ways of doing so. The programme is part funded by Irish Aid. The support from Irish aid has seen the programme develop over the last seven years. Programmes now on offer include one day trainings, delivered nationally, international residential trainings, and the core programme, a Level 8 Accredited special purpose award. Creativity & Change is about creativity and its power to ignite empathy, passion and learning about our interconnected and interdependent world. It is about imagining more humane, just, and viable ways to live in the world. Additionally it connects how we think, live, and act in the world and considers how we can live as connected global citizens becoming part of the changes we want to see.
In January this year, the Creativity and Change programme partnered with Youth Work Ireland Cork to deliver an Erasmus+ supported 6-day international training programme for youth workers from Ireland, Hungary, Italy and UK. The training focused on creative methods to support youth engagement with themes of Global Citizenship and Wellbeing.
The programme, and this resulting publication which was co-developed with the participants, was selected as a best practice example for inclusion in the European Youth Week Brochure. Programme participants, Helen O'Keefe and Joe Curtin, representing YWI Cork have just returned from Brussels where representatives of the project were invited to share in a showcase of good practice projects from all across Europe.
The publication provides reflections and practical creative tools and processes for artists, youth workers community workers, educators and volunteers, enabling them to engage others with the themes of Creativity, Resilience and Global Citizenship.
The Creativity and Change programme has engaged with hundreds of artists, youth workers community workers, educators and volunteers throughout its range of programmes. Paul Meehan has just completed the Level 8 Special Purpose award. He has been involved in Community Development for a number of years. His previous training included a level 6 Train the Trainer programme, a training for Transformation programme and a degree in community development before attending the Special purpose award deliverd as part of the Creativity and Change programme. He was engaged in a number of creative and arts activities and was attracted to the Creativity and Change programme as he felt it would offer him new and creative ways for the delivery of global education programmes, whilst developing his own self confidence and creativity in delivering these programmes.
"I would like to impart my new knowledge in various settings, both at home and abroad, either in a community setting, voluntary setting or working with an NGO abroad. Doing this through public engagement using the various creative methodologies that I have learned, and to enlighten people and communities to looking at their world and their communities in a different way, and how we are all interconnected locally and globally, and all have a role to play for a fairer and more just world."
Having completed the award he plans to progress to a Masters programme related to development and development education to further develop his skills and his work in this field. He is also applying his learning and enthusiasm volunteering with Trocaire and preparing to work with them to deliver Development Education in schools in Cork.
Please visit www.creativityandchange.info or creativityandchange@cit.ie for more details.