CIT Crawford College of Art & Design Students Win Awards at RDS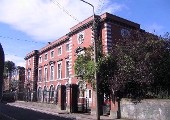 Published on: Thursday, 30 July 2015
The prestigious RDS Taylor Art Award for 2015 – and the prize of €10,000 - has been awarded to Rachel Doolin, who has just completed her BA (Hons) in Fine Art at CIT Crawford College of Art & Design. CIT acquired one of her sculptural pieces during the "We Do Not Leave Pyramids" degree show held in June, and it will be installed in due course in the CREATE building.
The piece in CIT Collection is detailed on the CIT Arts website: http://arts.cit.ie/collectionPiece?pid=379
Cork City Council acquired her winning piece, "Promethean Illusions". http://www.rds.ie/index.jsp?a=1133&n=177&p=211
"The 2015 RDS Student Art Awards has a total prize fund of €20,000, encompassing the RDS Taylor Art Award of €10,000 which has been awarded since 1860. The Awards are open to students graduating from degree or postgraduate level courses in the year of entry enrolled in Irish art colleges. The Awards are also open to graduating Irish art students studying overseas."
To put this in context, previous winners of this award include Walter Osborne, William Orpen, Dorothy Cross, Sean Keating, Louis le Brocquy, Eamon O'Kane and James Hanley. The award was last won by a Crawford student – Ray Tsang - in 2004.
On Monday evening the National Craft Awards were announced, and the RDS Graduate Award – and €2000 – went to Andrew Whitelaw, a final year student in the BA (Hons) in Contemporary Applied Art (Ceramics, Glass, Textiles). Andrew spent some time in China during his third year, and his work included both ceramics and glass. His winning piece was entitled, "Shanghai". The PM Group acquired a piece of Andrew's work at the degree show in June to add to their growing collection. http://www.rds.ie/index.jsp?a=1134&n=177&p=211
These were the top two graduate awards at the RDS – so well done and congratulations to both our students, Rachel and Andrew, this was an outstanding achievement.
Rachel and Andrew were also recipients of the two National Sculpture Factory residency awards at the degree show in June.
Congratulations also to Trish Brennan and all the staff (academic, technical and support) from the Department of Fine Art & Applied Art. Thanks also to Dr. Barry O'Connor, Registrar and VP for Academic Affairs and our colleagues in the CIT Arts Office for their unwavering support.