Springboard Showcase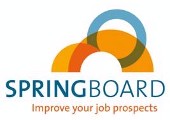 Published on: Monday, 10 August 2015
Close to three hundred job seekers can avail of places, on eighteen courses, at Cork Institute of Technology under the 2015 Springboard+ Initiative. A Springboard+ Showcase Event will be hosted by the HEA in the Metropole Hotel, Cork, this Thursday 20th August, from 1 to 7pm. At the Showcase, potential applicants will have the opportunity to explore the courses in more detail, to gain a better insight into employment opportunities and to access career advice.

The courses available in CIT, for which there are NO FEES, include intensive conversion courses in Cloud Computing, Mobile Software Development and Data Science and Analytics, as well as courses in Automation, Biopharmaceutical Manufacturing, Lean Six Sigma Methodologies, Environment and Energy Engineering and Plant and Piping Design. This year, there are also new course options in Building Information Modelling and Architectural Green Practice.
All the courses are designed, and developed, in close collaboration with industry partners and provide a dynamic pipeline of job-ready graduates, with up-to-the-minute skills, and valuable qualifications for the sectors of the economy which are are expanding and recruiting. The courses are designed to meet current and future skills needs in Ireland and range across all education levels.
CIT has an excellent record of success under the Springboard initiative with very positive outcomes for students. All courses available on Springboard are FEE FREE.
Details on available courses, eligibility and the application process are available at www.springboardcourses.ie