Best Wishes to CIT's Equaliser Team Travelling on Sunday - Ireland's Sole Representative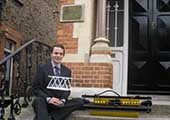 Published on: Thursday, 10 September 2015


14 - 18 September
University Startup World Cup 2015 Finals
Copenhagen Denmark


Best Wishes to CIT's Equaliser Team, who travel on Sunday to Copenhagen as Ireland's Sole Selected Finalist in the University Startup World Cup 2015 Finals, which takes place 14 - 18 September.

The Equaliser Team, brothers Brian and Ronan Hand will be accompanied and supported by academic mentor Daithi Fallon.

The Equaliser team will compete as the sole Irish Representative among 48 Finalists from 24 Countries - Italy, United Kingdom, Denmark, Nicaragua, China, Japan, Netherlands, South Africa, India, Canada, Brazil, Turkey, Iran, United States of America, Croatia, Australia,Korea, Egypt, Serbia, Sweden, Nigeria, Finland, Kenya, and of course Ireland.

The 48 short-listed teams, selected from a large international entry from more than 3,000 universities worldwide, will compete to win cash prizes totalling US$100,000 and all participants will receive world-class mentoring programmes together with assistance and guidance from global CEOs, successful entrepreneurs and financiers, plus networking and mingling with each other in a one week intensive session.

Equaliser is an extreme weather conditions novel tie-down system for ship to shore cranes, incorporating an equalising beam and torque adjustable features, which has been designed, prototyped, optimised and tested.
EQUALISER Product Promotional Websites

Online Product Website: https://equalisertm.wordpress.com/
Online Presentation of EqualiserTM: https://www.youtube.com/watch?v=FYEZ1tMtVnI
Elevator Product Pitch: https://www.youtube.com/watch?v=XfgKUPujgNs
College Website: equaliser
Product Facebook Page: https://www.facebook.com/pages/Equaliser/1588985001385380
Product Twitter Page: https://twitter.com/EqualiserTM

The product Equaliser arose from Brian's self-devised final year undergraduate capstone project on "An Analysis into Wind Induced Loading Effects on a Ship-to-Shore (STS) Crane and Investigation into Design Optimisation" arose from his work placement at Liebherr Container Cranes of Killarney, Co. Kerry and was carried out under the supervision of Dr Andrew Cashman.

Over ninety percent of the world's cargo is transported by sea. Ship-to-Shore (STS) cranes play a pivotal role in the provision of this safe and reliable means of transporting goods. The increasing transport demands of the maritime industry has dictated that STS container cranes are significantly increasing in size. The environmental locations of these cranes invariably leads to exposure to damaging meteorological effects of storms and other adverse weather phenomena.

Currently traditional and highly conservative standards are utilised to quantify wind loading on these structures. The traditional standards based design approach leads to high mass crane structures and creates foundation problems in many harbour and quay structures - a problem exacerbated by the increasing trend towards larger STS cranes. The complex physical geometry of modern STS cranes combined with the dynamic and unpredictable nature of wind flow poses a major challenge to the designer / analyst wishing to diverge from the standard based approach.

Extensive computational fluid dynamics (CFD) models were created and analyses conducted to examine the airflow around critical modelled sections of a Liebherr STS crane. Physical scale model generation and wind tunnel testing were undertaken to validate the determined CFD results. The CFD approach is indicated as an optimal analysis method - allowing the designer to accurately determine locations and magnitudes of high pressure and make informed design decisions based on these results.

Design optimisation is conducted on the critical crane tie-down system - this system significantly influenced by CFD determined critical wind loading.

A systematic design and prototype production approach was adopted to create and optimise a functional and dynamic design.

Ronan, an honours graduate of the CIT Bachelor of Engineering in Sustainable Energy Engineering Degree, has just achieved placement on the highly sought after ESB International graduate programme - commencing this placement in September 2015.

Brian, an honours graduate of the CIT Bachelor of Engineering in Mechanical Engineering Degree, has been awarded a CIT Rísam PhD scholarship and has commenced PhD research under the supervision of Dr Andrew Cashman.

Brian has primarily taken the role of product development through conducting extensive iterative design, product analysis testing and experimentation. Ronan has taken on the role of overseeing the business and marketing elements of the business with developing many of the promotion outlets for the startup product.