Event: NMCI Hosts Open Day And Maritime Event > 22nd October 2015 10am - 3pm
Thursday, 22 October 2015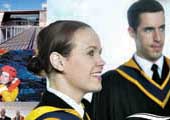 The annual Maritime Event and Open Day took place at the National Maritime College of Ireland (NMCI), Ringaskiddy, on Thursday, 22nd October 2015 from 10am to 3pm.
Representatives from international shipping companies and maritime organisations provided information about careers in the maritime industry.
These companies provide employment and sponsorship to students undertaking courses offered by the National Maritime College of Ireland.
Throughout the day there were:
Tours of the state of the art training facilities at the college including the multi-million euro ship simulators, sea survival centre, and engineering workshops.
Presentations by the maritime companies of their career opportunities.
An events' hall to visit international maritime companies and organisations.
Presentation for schools and students on course opportunities at the NMCI.
CAO Courses
CR 805 Marine Elecrotechnology
An Electro Technical Officer (ETO) operates, maintains and calibrates all electrical, electronic and ships equipment. The ETO's role is not restricted to the engine room and may also work on complex systems located throughout any vessel.
CR 095 Marine Engineering
The function of the Marine Engineer is to operate and maintain the engines, boilers, generators and other systems of ships. Most of the mechanical equipment aboard ship is operated and maintained by Marine Engineers. This course aims to provide a sound knowledge base of Marine Engineering.
CR 094 Nautical Science
Nautical Science has three main elements: Navigation and ship handling, in other words, the conning and control of a ship; the safe operation of a ship, including the protection of life and the environment; Shipboard administration, and the handling, loading and care of cargoes which may be as diverse as petroleum products, general cargo, or thousands of new cars or passengers.