Radio series Bytesize starts Thursday 12 November on CRY104FM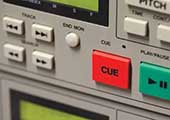 Published on: Monday, 09 November 2015
A new weekly radio series on digital media produced by two CIT lecturers starts Thursday 12 November 2015 on CRY104FM. Bytesize is presented by journalist and lecturer in the Department of Media Communications Anne-Marie Green and Dr Gearoid O'Suilleabhain, Head of the Department of Technology Enhanced Learning.
The aim of the series is to look at the A-Z of key digital media terms and how digital technology and content are conceived, created, distributed, managed and controlled. Topics range from Apps to Gigabytes, Open Source to Virtual Reality.
The weekly 10 minute slot at 6.30pm is aimed at 'non-digital natives' who may be aware of media technology through computers, Internet, smart phones and cameras but are sometimes confused by terminology and references.
Listeners can access a weekly document which outlines the main areas for discussion as well as helpful links and tech tips.

The objective is to improve their knowledge and awareness of how these systems operate through providing small slices of information each week on a specific topic. At the end of the series we hope that listeners will have not just a greater understanding of digital media and wider technology issues but have some skills to make their online interaction safer and more secure.

Structure
The programme title suggests how the programme will be structured. Each weekly programme is a small, easily digestible piece of information on one aspect of digital media.

The structure will be an A-Z of common terms that are used in relation to digital media. Each week the programme will start a discussion with one term which will then act as a springboard for a wider discussion related to this term.