Exhibition at the Wandesford Gallery by Laura Smith 'When all is said and done'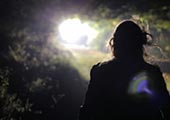 Published on: Sunday, 15 November 2015
6 – 21 November
CIT Wandesford Quay Gallery
Links:
http://ccad-research.org/gallery/?page_id=2734

http://laurasmith.me/
Shut, block, seal, brick up…
Through a variety of medium and both fictional and factual narratives When all is said and done investigates restrictions within the socio-political relationship and the implications these actions can have on individuals. Specifically focusing on moments when governance directly contradicts ideologies of human freedoms. Through constructing staged scenes and resurrecting dialogues surrounding specific histories When all is said and done addresses the residue history leaves on the present.
There exists a pronounced dialogue within Smith's work with social, political and cultural contexts placing particular focus on moments of social disruption and transformation. Often looking to history to compare and address the impossibility of coherently identifying the realities of contemporary Western political and social life.
Working in moving image my work aims to addresses the contradictions that exist within the west's political paradigm democracy. Through a combination of narrative, attention to site, documentary and staged actions, these vignettes critique the political framework and explore the tensions that exist between society and the political.
Laura Smith is a visual artist working in moving Image. Smith was recently awarded the Now Wakes the Sea Emerging Artist Award at the Kinsale Arts Festival, 2014 which has resulted in this solo show When all is said and done in CIT Wandesford Quay Gallery.
Smith will also exhibit as part of Tulca 2015, curated by Mary Cremin. Previous exhibitions include LUX critical forum Dublin group show How does the group function in Enclave, London and Annie Fletchers curated Eva International, After the Future, 2012.