Exhibition Underground Images @ James Barry Exhibition Centre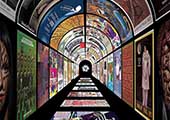 Published on: Friday, 08 January 2016
School of Visual Arts Subway Posters, 1947 to the Present
James Barry Exhibition Centre, CIT Bishopstown Campus, Cork.

Opening Reception - Tuesday 1st December 2015 at 7pm
With artist and SVA faculty member David Sandlin. All are welcome.
Exhibition continues
2 December 2015 - 22 January 2016 (closed from 22 December – 11 January)
Open Mon - Fri 10am - 5pm
See CIT's Arts & Culture website for further details
.............................................................................................................................
CIT is delighted to partner with SVA to host the international touring exhibition "UNDERGROUND IMAGES: School of Visual Arts Subway Posters" for the first time in Ireland, and to forge new links between the institutions. This exhibition includes more than fifty posters selected from the wide array conceived at the School of Visual Arts for display in the vast New York City subway system. They offer a glimpse of the history of the college and the collective talent of it's acclaimed design, illustration and photography faculty. The posters also represent the changes in style, technique, and technology in visual communications over those years, from hand-drawn illustrations to modern digital rendering. CIT Arts Office and CIT Crawford College of Art & Design, Department of Media Communications are looking forward to showing a collection of this quality and range to students of all forms of communication.
Twenty nine current and former SVA faculty members created the posters in this exhibition: Gail Anderson, Marshall Arisman, Gene Case, Ivan Chermayeff, Paul Davis, Sal DeVito, Louise Fili, Audrey Flack, Nathan Fox, Bob Gill, Robert Giusti, Milton Glaser, Phil Hays, Steven Heller, Mirko Ilić, Viktor Koen, Stephen Kroninger, Marvin Mattelson, Clay Patrick McBride, James McMullan, Jerry Moriarty, Tony Palladino, Stefan Sagmeister, David Sandlin, Paula Scher, Eve Sonneman, George Tscherny, James Victore and Robert Weaver. SVA Executive Vice President Anthony P. Rhodes, who has served as creative director for the posters since 2007, is the curator of this exhibition.