all things considered > Exhibition of new prints by Cork Printmakers' members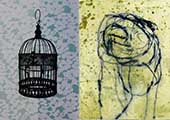 Published on: Friday, 18 December 2015
Venue: CIT Wandesford Quay Gallery, Wandesford Quay,
Clarke's Bridge, Cork City

Dates: Opening Night – 6pm, Thursday 3rd December 2015
Continuing until Wednesday 23rd December 2015

Times: Mon – Sat 10am – 6pm, closed Sundays
..........................................................................................................................................

From 3 – 23 December 2015, Cork Printmakers are opening their doors for their Annual Christmas Exhibition, at CIT Wandesford Quay Gallery, Wandesford Quay, Cork. all things considered exhibition will feature new prints by at least 40 artist members of Cork Printmakers.

This exhibition of new prints represents all printmaking types from etching, lithography, photo intaglio, to screen-printing and digital prints.These prints have been created specifically for this exhibition and are available in limited editions. With an average price range of between €100 – €250, this is a great opportunity to buy something you won't find on the high street, as well as supporting local professional printmakers.

The artists explore a wide variety of subjects from Debbie Godsell's representations of aspects of Irish life, to depictions of the straw people of Dingle by Deirdre McKenna, while Frieda Meaney explores the nature of the human body through etching, Helen O'Keeffe's mono screen-printed landscapes dance with colour, in contrast, Nikki Tait interprets the countryside through fine engraving and Séan Hanrahan investigates the essence of organic matter via screen-prints on metal. The artists have created work in an array of sizes, utilising a range of surface materials to ensure there is something for everyone's taste.

Cork Printmakers is one of the leading open access print studios in the south of Ireland and is a leading fixture in international print development. It supports exceptional artists, promoting the highest standards of practice. The exhibition will comprise new work from emerging and established contemporary artists working in Ireland today, including, Johnny Bugler, Debbie Godsell, Séan Hanrahan, Eileen Kennedy, David Lilburn, Frieda Meaney, Noelle Noonan, Sylvia Taylor, Wendy Dison, and many more.
Gift Vouchers can be used to purchase artwork or a course from the extensive Adult Education Programme. Cork Printmakers' limited edition Christmas Cards will also be available to buy. Each card is printed on fine art Somerset paper and hand cut. The Christmas cards are also available from IMMA and the Lewis Glucksman Gallery, Cork.
Cork Printmakers' Print Showroom is open all year around and stocks prints by our ninety artist members. There is a great variety of subject matters and sizes, to suit all tastes. Prints begin at €25, are available framed or unframed and make ideal gifts for special occasions such as weddings and birthdays, amongst others. The Print Showroom is open from Monday – Friday, 9.30am – 5.30pm and friendly staff are on hand, to help you with your selection. The Print Showroom is located on the second floor of our premises, on Wandesford Quay, Cork City.

Cork Printmakers acknowledges the financial support of The Arts Council of Ireland and Cork City Council.

Cork Printmakers and CIT Wandesford Quay Gallery are located in the refurbished 19th century warehouses at Wandesford Quay along with Backwater Artists Studio, situated between Sharman Crawford Street and Clarke's Bridge. Five minutes walk from Patrick Street.
| | |
| --- | --- |
| Wendy Dison | Debbie Godsell |