A solo exhibition by Elisa Feiritéar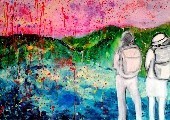 Published on: Sunday, 31 January 2016
A solo exhibition by Elisa Feiritéar
JAMES BARRY EXHIBITION CENTRE
CIT Bishopstown Campus
Open: 3rd Feb 2016 - 12th Feb 2016
Open times: Mon-Fri 10am to 5pm
Venue: James Barry Exhibition Centre
OPENING RECEPTION:
THURSDAY 4TH FEBRUARY, 6pm
Fáilte roimh cách / All are welcome

"This body of work explores the paradox of leisure in society, from Aristotle's theory that leisure is 'the absence of the necessity of being occupied' to contemporary times where leisure is affected by cross-cultural factors and so many other evolving trends. Through painting, which ironically in itself is a leisure activity to some, the work examines leisure as a state of being in today's world."
Elisa Feiritéar
Elisa Feiritéar's work exhibited at the CIT CCAD Degree Show in June 2015 focussed on the influence of the ubiquitous smartphone and Social Media on contemporary social interactions and on our experience of our environments. Do we use these technologies to record or enhance interactions, or to replace those interactions?
The works suggested intriguing and complex connections between a wide range of research and study areas, many pursued at CIT, including the arts, engineering, social studies, media communications, and business, while also utilising the unique abilities of painting to explore and portray both the perception and actuality of a situation.